Skip upcoming rate hikes and lock in good terms now
Student loans are about to get more expensive, but we've got a plan for you.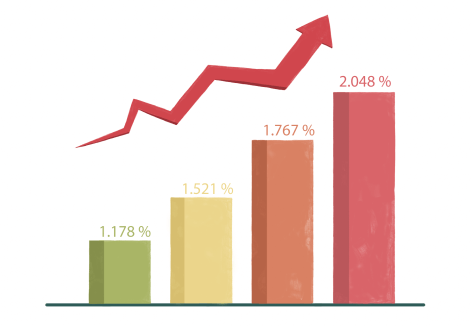 Here's what you need to know
Interest rates are on the rise, and we're forecasting increases in student loan costs over the next few months.
Students who know where they'll be in the fall have an advantage – they can apply for student loans now and lock in terms at current low rates.
Starting the process now means you can always cancel later if you like, but keeps you protected from upcoming rate hikes.
As long as your loan application is in "pending certification" status, you can rest easy knowing you nabbed a great deal in the nick of time.
There's no additional cost here –interest only begins accruing once the loan is disbursed to the school so you won't incur a larger fee by applying early.
Borrow the maximum you can / think you'll need so you don't need to deal with applying again for more funds at a higher rate.
Here's the data.
We're carefully tracking the market, and you can see the starkest example here with Ascent, a highly vetted lender.
Based off this trajectory, we think other lenders will assume similar paths, so the time to lock in your terms is now.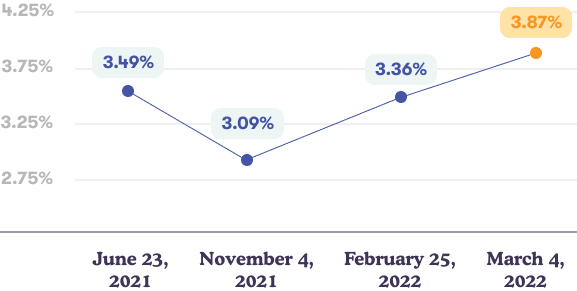 *based off lowest advertised fixed interest rate for Ascent. See terms for full details
How much are rates rising?
We have some indication that rates are going up as fast as 0.1% each week! We are truly racing against a clock here.
Are you still guaranteeing the lowest rates on the private market?
Yes! If, by some miracle, you find a lower rate anywhere else on the private student loan market
we'll pay you cash upfront
to match the cost difference, lowering your APR and giving you a signing bonus.
We're a student first organization; we'll do anything we can to save you money. We've been in your shoes.
How does Juno make money?
We charge our partners a percentage of the loan amount our members borrow from lenders – it's set before the formal auction, so companies can't sway us by offering more money. The partner is selected based on Juno's analysis with the objective of finding the partner that will offer you the best rates.


When you use our special link, you'll get a discount from the lender, or other incentive such as a cash payment from Juno, which we've negotiated. We'll receive the fee described above from our partner, which is calculated as a percentage of your final loan amount, but you're always free to go directly to the partner's site as well.
Are you still an independent third party?
Yes. We are an
independently owned
and operated organization. We are not a lender, and our mission is to only make money when you save money.
Is there any downside to doing this?
No. We've ensured that you retain the flexibility of changing your mind at a later date. Later in the summer, you can still cancel this loan without any charges / penalties etc. and switch to any other loan (federal or private) you'd like. If you want to cancel, just call the lender prior to the school certification and the lender will cancel the loan. You can even cancel the loan right until it's disbursed (same process, just call the lender). It's a good idea to inform your financial aid office if you do decide to switch lenders.
How fast are student loan rates changing?
We have some indication that rates are going up as fast as 0.1% each week – we'll continue tracking and updating you on this.
How can I be confident that I've locked in the rates?
You need to get the loan into "pending certification" status to be confident that you've locked in the rates. Once in that status, the lender will not expire the loan unless the financial aid office rejects it. In any prior status, the lender will likely cancel the loan within 30 days.
Will interest start to accrue earlier if I sign the loan earlier?
Nope. Interest will start to accrue as the loan is disbursed. It doesn't matter if you sign the loan now to lock in your rates or if you do so later in the summer.
How much do I borrow today?
If you are unsure how much you'd like to borrow for next year, you might use last year's loan amount as a proxy.
At a later date, if you want to increase the loan amount, you can submit a new application for the additional loan amount (though this new application may be at higher rates). If you need to reduce your loan amount, you can prepay the loan once it's disbursed.
Keep in mind, if you attempt to borrow more than the permissible amount, the university will certify a smaller amount equal to the cost of attendance minus any other aid you've received.