How to Make FAFSA Corrections and Updates
If you're wondering, "Can I make corrections to my FAFSA after the deadline?" the answer is it depends. Read on to learn more.
If you're wondering, "Can I make corrections to my FAFSA after the deadline?" the answer is it depends. You should be able to make changes before the priority deadline, but afterward, you may risk your chances of getting all the available aid you may qualify for.
Submitting wrong information or having to update details because of a life change is normal. In either case, you want to make corrections well before the deadline so you can ensure your application gets processed.



Changes You Can Make to Your FAFSA After You've Submitted Your Form
You must complete your FAFSA, or Free Application for Federal Student Aid, as accurately as possible because you may not be able to update most of the information you submitted. The U.S. Department of Education stresses that the information you submit must be accurate on the date you sign your FAFSA.
With some exceptions (which we'll talk about below), you won't be able to make updates. For instance, if you put down an amount you have in savings and have since spent it, you won't be able to update to the new amount.
To ensure that your FAFSA application is as accurate as possible in the first place, gather all necessary paperwork and information. That way, you'll have it right in front of you and won't be scrambling to find all the details you need. Before signing and submitting the form, double-check that what you're about to submit is correct.
Of course, there are instances where you should change or correct information:
Change in contact information:

You can update details such as your mailing address, phone number and email address.

Change in dependency status:

If you're pregnant or have a new legal guardianship, you'll need to make the appropriate changes.

Change in marital status:

Not everyone will need to update this information, so contact your school's financial aid office to see whether you need to make changes if you recently got married or divorced.

Change in the number of members in your household:

You'll need to do this only if you were selected for FAFSA verification.

Change in the number of people in your household going to college:

You're required to make this change only if you were selected for FAFSA verification.
There are other instances in which you'll need to update your FAFSA, such as correcting your Social Security number and updating the schools listed.
Correcting Your Social Security Number
You can make corrections if you used an incorrect Social Security number (SSN) using a few methods. The easiest way to do so is to submit a new FAFSA online. You also may be able to ask the financial aid office at a school that's on your Student Aid Report (SAR) to change the SSN for you.
Keep in mind that submitting a new form will mean that your submission and processing dates also will change, so you'll want to make sure you'll still qualify for financial aid by checking your school or state's designated deadline.



Add or Delete a School
You'll be able to list a maximum of 10 schools on your FAFSA at any one time. That means if you add an additional school, the new one will overwrite a previous school.
To ensure you have the correct school codes, you can select which school you want to replace with the new one. All you need to do is find the current Federal School Code and make the necessary changes. You also can delete a school without adding a new one.
Updating Tax Information
Ensuring your tax return information is correct helps ensure you're getting the proper amount of financial aid. If you already submitted your tax return information using the IRS Data Retrieval Tool, you can't change that on your online FAFSA form.
For instance, if you filed a 1040-X amended return, you'll need to contact the financial office at your school to see whether the school should update your tax information in your FAFSA.



How to Make Corrections and Updates on Your FAFSA
You can update your FAFSA before your school or state's designated deadline or before June 30 of the year you want to receive financial aid. To make changes, you can head to FAFSA.gov and log in using your FSA ID. From there, you can opt to make changes. The online form will ask you to create a save key, change your information and then submit the changes.
You also may be able to change details in your FAFSA by contacting the financial aid office of the school you're planning to attend. In many cases, it may be able to make changes or suggest that you fill out a new FAFSA and resubmit your application.
Another option is to make changes or corrections to the paper version of your SAR. Once you fill it out, you'll need to sign and mail it to the address that's listed on the SAR.
If you've made sure you filled out your FAFSA correctly and your household situation won't change for the foreseeable future, you likely won't need to make changes. In the event you do, now you know what your options are to ensure the new changes you submit will be processed correctly. That way, you can focus on other aspects of preparing for college, such as bridging the funding gap with private student loans.
Juno has some of the lowest interest rates available for private undergraduate student loans, ranging from 2.99% APR to 11.78% for a fixed-rate loan and from 0.99% APR to 10.44% APR for a variable-rate loan. Juno also offers an interest-rate guarantee. If you find a lower interest rate from another lender, you can bring it to Juno. If Juno verifies your claim, it will give you a better offer.
Rates accurate as of Oct. 27, 2021.
---
Written By
Sarah Li Cain
Sarah Li Cain is a finance writer and a candidate for the Accredited Financial Counselor designation whose work has appeared in places like Bankrate, Business Insider, Financial Planning Association, Investopedia, Kiplinger, and Redbook. She's the host of Beyond The Dollar, where she and her guests have deep and honest conversations about money affects their well-being.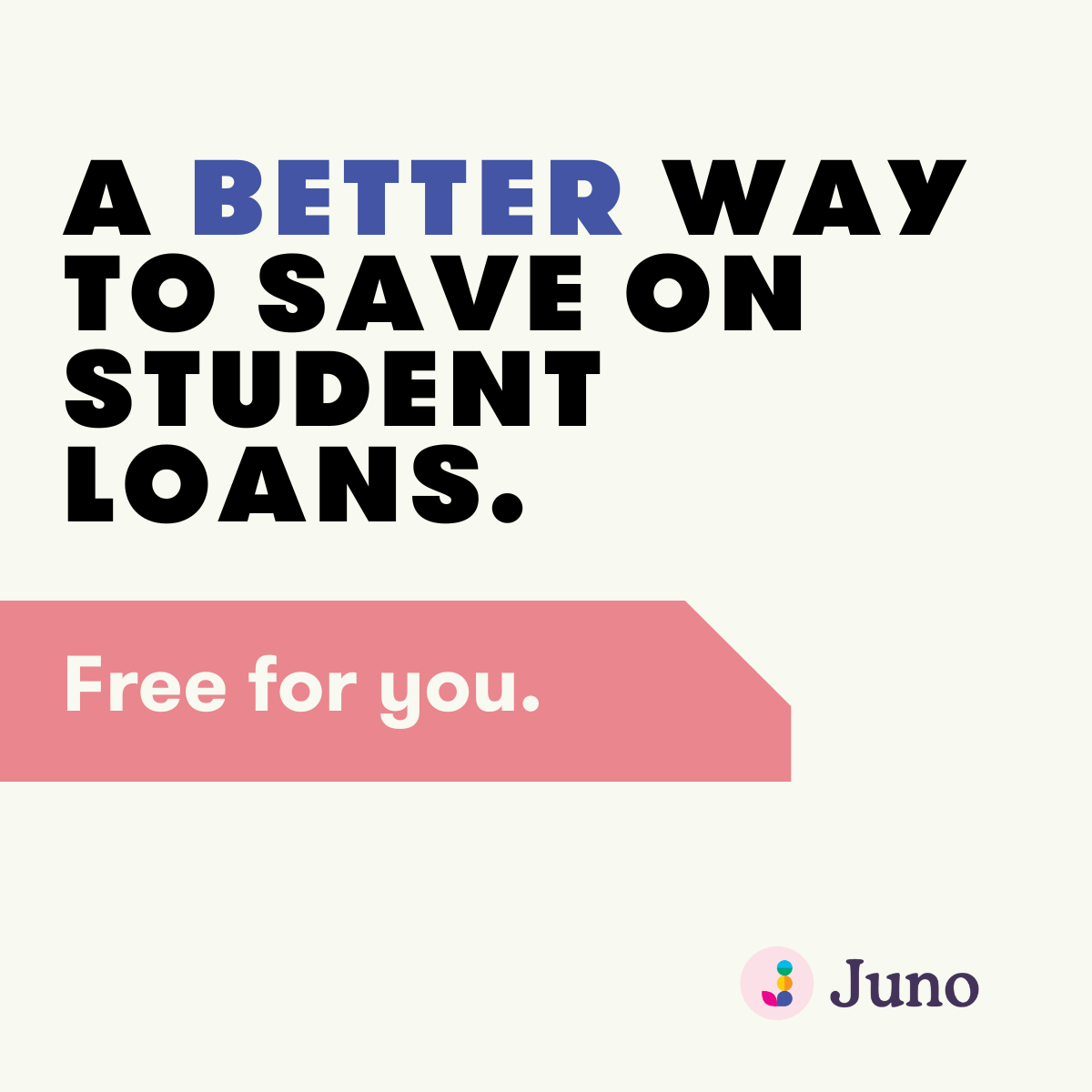 Learn more
Student Loan Calculators: