Best LSAT Scores for Law School
Your LSAT score is an important factor in whether you'll get into law school. Learn how the LSAT works and the score you should aim for based on your goals.
Your performance on the Law School Admission Test (LSAT) is one of the most important factors in whether you'll get into the law school of your choice. Possible scores range from 120 to 180, but only about 0.1% of test-takers receive a perfect score. The median LSAT score is about 152. So, what's the best LSAT score? The answer depends on the schools you apply to. For example, the top 10 law schools in the U.S. generally require a score of 170 or higher for an applicant to be competitive. Keep reading to learn how the LSAT works and the kind of score you should aim for based on your goals.


What is the LSAT
The first LSAT, administered in February 1948, consisted of 10 sections and took a full day to complete. Today, it is the only standardized test accepted by all American Bar Association-accredited law schools. Thankfully, the LSAT has shrunk to three scored sections and a fourth, unscored variable section. Each section lasts 35 minutes, with a 10-minute break between sections two and three. Due to the COVID-19 pandemic, the LSAT is currently administered online in a live remote-proctored format through June 2022.
Understanding the four LSAT sections
When you take the LSAT, you'll be faced with four sections of multiple-choice questions and one unscored writing sample. The writing section can be completed as early as eight days before your scheduled multiple-choice exam. The purpose of this exercise is to show your persuasive writing skills so law schools can assess your writing for reasoning, clarity, organization, usage and mechanics. Your writing sample is not scored by the LSAT, but it is sent to all the law schools you apply to.
The multiple-choice sections are as follows:
Reading comprehension:

Measures your ability to understand the kind of long-form, complex materials you'll encounter in law school.

Analytical reasoning:

Measures your ability to understand and draw conclusions about the structure of relationships.

Logical reasoning:

Measures your ability to analyze, critically evaluate and complete arguments.
The purpose of the unscored section is to make sure questions are free of bias. It can occur at any point in the LSAT and can consist of any of the above multiple-choice question types.
Understanding LSAT scores
When you schedule a date to take the LSAT, you'll receive a corresponding score release date. Your score report consists of your raw score, percentile rank and score band. Learn more about each factor here:
LSAT score:

Based on the number of correct answers you had. All questions are weighted the same, so it doesn't matter which ones you get wrong or right, only how many. There are no deductions for incorrect answers.

Percentile rank:

The percentage of test-takers from the last three years who scored lower than you (more on that in the next section).

Score band:

Your LSAT score is an estimate of your proficiency in the skills tested, but your actual proficiency may be slightly higher or lower. Thus, the score band indicates a range of scores — such as 154 to 160, for a raw score of 157 — that your actual proficiency may fall within.



What are LSAT percentiles?
The purpose of LSAT percentiles is to compare your score with the scores of all other test-takers from the last three years. Your percentile rank shows the percentage of people who score lower than you. For example, if you end up with a median LSAT score, your percentile ranking would be about 50%.
While it's natural for test-takers to focus on their LSAT scores, keep in mind that the law schools you apply to will also check your percentile rank. So if you test more than once and improve your score on subsequent tries, your percentile rank will also improve. For example, raising your score from 150 to 155 would increase your percentile by about 20 percentage points (from approximately 46% to 66%). So it's worth putting in the effort to be well prepared for the LSAT and taking it again if need be.
What is a good LSAT score for your desired school?
Simply put, the best LSAT score for you is the one that gets you into the law school of your choice. There are currently about 200 American Bar Association-accredited law schools in the United States. According to the U.S. News list of the best law schools, the top 10 are familiar names from the Ivy League such as Yale and Harvard as well as prestigious state schools such as the University of Virginia and the University of California, Berkeley. To get into a top-10 school, you should aim for an LSAT score of 170-plus.
For the tier of 25 or so schools just below the top 10, you're looking at 160-plus to be a competitive applicant. Of course, not every prospective law student is trying to get into a top-ranked school. So make a list of your desired schools and check their median LSAT scores. You can use them as a target for your LSAT score.


How to pay for law school
Scoring highly on the LSAT doesn't just help you get into the law school of your choice. A good score also can help you earn scholarships and grant money. With annual tuition for law school ranging from $27,000 to $61,000 depending on what kind of institution you attend (private or public), any financial aid you get will decrease the amount you need to borrow.
If you do need to finance part or all of your law school education, understand your student loan options:
Direct Unsubsidized Loans:

The U.S. Department of Education will lend you up to

$20,500 per year

with an interest rate of 5.28%.

Private loans:

While private student loans don't offer the same benefits as federal loans, you may be able to find a better interest rate or a loan without origination fees from

one of Juno's lending partners

.
The average law school graduate has $160,000 in student loan debt, either all from law school or from a combination of undergraduate and graduate student loans. With such a big financial commitment at stake, it's worth shopping around to find the best deal on graduate student loans and trying to improve your LSAT score to qualify for scholarships. Check out our Complete Guide to Student Loans for Law School to learn more.
Join Juno for the best deals on law school student loans
Join Juno today to find the best private student loan options for grad students and professional students. It's free, fast and no credit check is required to view our negotiated deals. We use group buying power to get you the best student loan interest rates, and our partner lenders offer student loans without any fees. If by some miracle you find a better deal, we'll beat it!
---
Written By
Elizabeth Spencer
Elizabeth Helen Spencer is a personal finance and travel writer based in the Philadelphia area. She holds an MFA in Creative Writing and has been featured in Money Under 30 and HuffPost.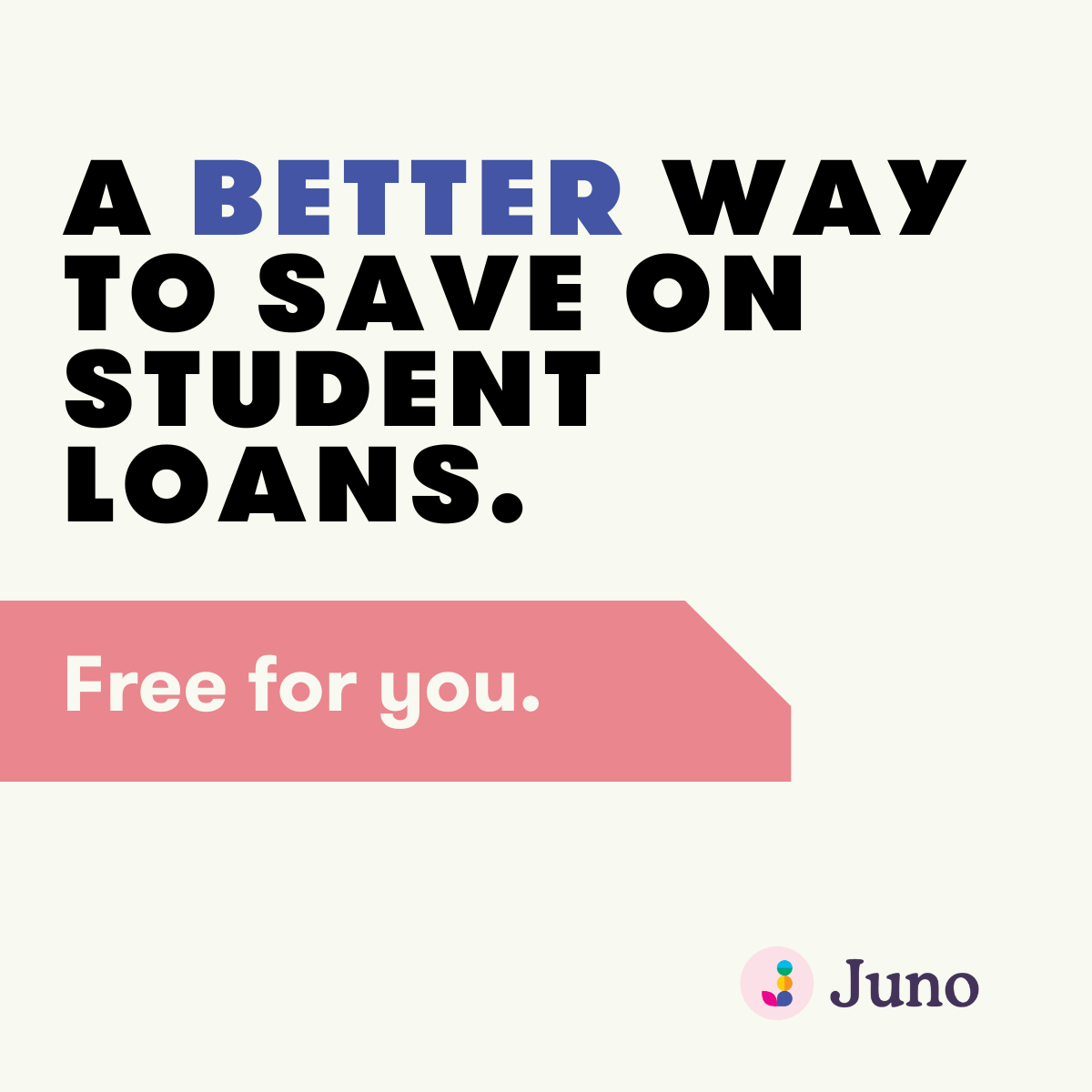 Learn more
Student Loan Calculators: