DCU Student Loans and Refinancing Review
Interested in a student loan line of credit? Read our DCU student loans and refinancing review to see whether the lender is a good fit for you.
There are plenty of lender options when it comes to private student loans. Credit unions are one of them. Many will require that you become a member, but doing so could be worth it if you can access benefits such as lower rates and more flexible repayment options. Digital Federal Credit Union, or DCU, offers student loans, refinancing and even a unique student line of credit that borrowers can use during their time in school.
Considering the lender's offerings are available nationwide, you may be wondering if submitting an application is worth it. To help you make an informed decision, read our DCU student loans review below.



Overview
Best for:

Borrowers who want a student loan line of credit.

Minimum credit score:

Not disclosed.

Fixed APR:

5.00% to 11.00% (loan) and 3.50% to 8.75% (refinance) as of Dec. 20, 2021.

Variable APR:

3.00% to 9.00% (loan) and 2.50% to 7.75% (refinance) as of Dec. 20, 2021.

Fees:

Late fee may apply.

Loan terms:

Five to 15 years.

Loan amounts:

Up to $100,000 (loan) and up to $125,000 (refinance)
What is DCU?
Digital Federal Credit Union was founded in 1979 and is headquartered in Marlborough, Massachusetts. It offers financial products and services such as bank accounts, student loans, and student loan refinancing throughout the U.S.
Students will need to be a member of the credit union in order to apply and qualify for a student loan or refinance.
To become a member, you'll need to meet one of the following eligibility requirements:
Be a relative of an existing DCU member.

Work for a participating employer.

Belong to a qualifying organization.

Live, work or attend school in a DCU-eligible community.
For more details, you can take a look at the list of eligible employers, organizations and communities on DCU's member eligibility page.
DCU Credit Union Features
Here are a few pertinent details about DCU's student loans and refinancing options.
Interest Rates and Fees
Like other private student loan lenders, the exact annual percentage rate, or APR, you'll qualify for will depend on factors relating to the type of loan you choose and your creditworthiness. In most cases, variable-rate loans tend to have lower APRs than fixed-rate loans. However, these rates will fluctuate depending on changes to the index.
DCU's fixed-rate loans range from 5.00% to 11.00% APR for a student loan and 3.50% to 8.75% APR for a refinance. DCU's variable-rate loans range from 3.00% and 9.00% for a student loan and 2.50% to 7.75% for a refinance.
If you choose a variable rate, the APR could go up or down, though DCU states it won't be higher than 18% or go down to less than the floor rate (the lowest possible rate for its variable-rate loan). It's important to keep this feature in mind to help you budget for your monthly payments.
Otherwise, DCU doesn't charge many fees for its student loans. You won't have to pay an application or origination fee. Plus, DCU doesn't charge prepayment penalties, so you don't have to worry about additional charges if you want to make extra payments.
While DCU does offer competitive APRs, it's a good idea to shop around with multiple lenders to see if you can get better rates and terms.
Line of Credit
What's unique about DCU is that it offers a line-of-credit structure for student loans. That way, you take out the loan once and use it throughout your undergraduate or graduate studies. You can use the loan up to the maximum amount and borrow more as you pay it back.



Amount
The amount you can borrow will depend on the type of loan you have:
Refinance:

Up to $125,000.

Line of credit (undergraduate):

Up to $75,000.

Line of credit (graduate):

Up to $100,000
Eligibility Requirements
To qualify for a loan, you'll need to be a U.S. citizen or permanent resident attending an approved school.
Applicants will also need to meet the minimum credit requirements. Reports state you need a minimum credit score of 720, and there are no known income requirements, though you'll need to have some form of employment. You may also apply with a co-signer if you're concerned you won't qualify otherwise.
Students will also need to meet their school's satisfactory academic progress (SAP) requirements, which usually means you have a certain GPA. Since schools have their own standards for SAP, you'll need to contact yours to find out what they are. Plus, in most cases, you'll need to be enrolled at least half time and be the age of majority in your state.
For student loans, DCU will also conduct an annual review to make sure you still meet its credit and academic requirements. You'll also need to be a member of the credit union.
Repayment Options
Borrower can choose from the following repayment options:
Interest-only payments in school.

Full payments in school.

Defer both principal and interest payments with a six-month grace period upon graduation.
If you choose the third option, interest will start accruing once your loan is disbursed.
Pros and Cons
Pros
Flexible repayment options.

Line of credit available for undergraduate and graduate loans.

No origination fees or prepayment penalties.
Cons
Interest accrues even if you defer the loan.

Credit union membership required.



Should I Take Out a DCU Student Loan?
Whether you refinance or take out a student loan with DCU, you'll have to keep in mind that you'll need to be a member of the credit union. While the list of qualifying employers, member organizations and communities is fairly long, it still can be restrictive.
However, if you don't mind being a member and can meet the membership requirements, DCU might be worth looking into. The line-of-credit option could offer more simplicity than borrowing multiple loans, though DCU's refinancing isn't much to write home about.
While you're seeing what you may qualify for, it's a smart idea to shop around. Juno offers undergraduate student loans, graduate student loans and refinance loans and can help you by negotiating lower interest rates on your behalf. Becoming a member is free.
---
Written By
Sarah Li Cain
Sarah Li Cain is a finance writer and a candidate for the Accredited Financial Counselor designation whose work has appeared in places like Bankrate, Business Insider, Financial Planning Association, Investopedia, Kiplinger, and Redbook. She's the host of Beyond The Dollar, where she and her guests have deep and honest conversations about money affects their well-being.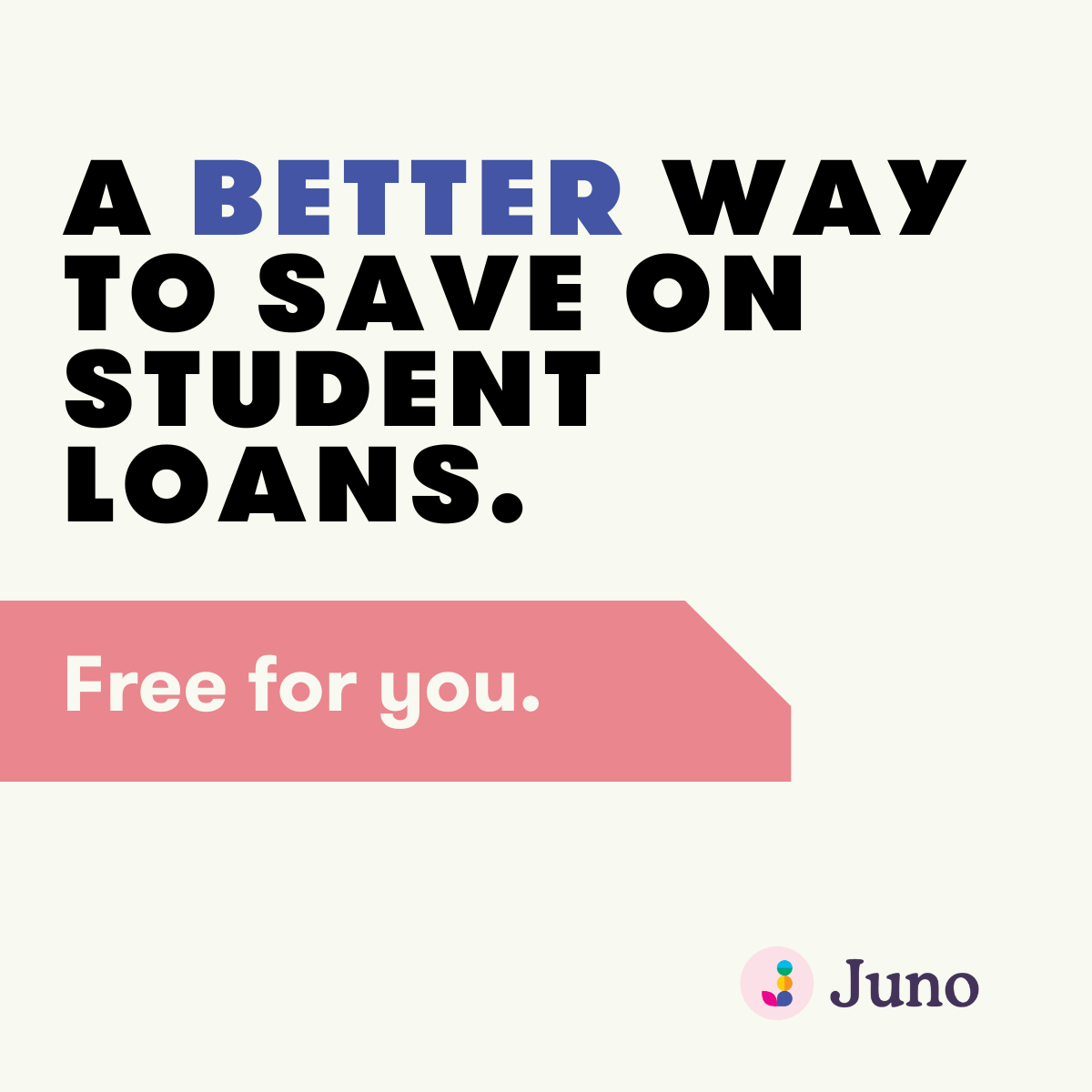 Learn more
Student Loan Calculators: