Education Loan Finance Review: Student Loan Refinancing and Private Student Loans
Read this Education Loan Finance review to learn about the company's options for student loan refinancing and private student loans.
Education Loan Finance (also known as ELFI) is a national private lending company and division of Tennessee-based SouthEast Bank. The company offers a flexible and transparent process for student loan refinancing for undergraduate and graduate student loans.
Education Loan Finance also places a big emphasis on customer service and the unique customer experience. Each borrower is paired with a student loan adviser to assist with the application process and answer any questions along the way.
ELFI Student Loan Reviews: Options at a Glance
ELFI Pros
Low interest rates:

Education Loan Finance offers low fixed and variable interest rates based on your credit. If you are trying to refinance student loans, you're bound to find a low interest rate with Education Loan Finance. That can save you money as you pay back your loan debt.

No unnecessary fees:

There are no application fees, origination fees or prepayment penalties when you refinance your student loans with ELFI.

You are assigned a student loan adviser:

You don't have to go through the student loan refinancing process alone. With Education Loan Finance, you are assigned a student loan adviser who can walk you through step by step, answer your questions and help you secure the best new loan terms.

You can refinance Parent PLUS Loans:

Parent PLUS loans can't be refinanced through the federal government, but a private lender such as ELFI can combine your Parent PLUS Loans with a private student loan.

Forbearance and economic hardship options:

If you are ever unable to repay your student loan due to financial hardship or medical difficulty, you could qualify for forbearance up to 12 months through Education Loan Finance.
ELFI Cons
High credit score needed:

While the loan terms and interest rates offered are very competitive, borrowers will need good or excellent credit to qualify. If you have bad credit or no credit, ELFI may not be the best student loan refinancing option for you.

High minimum loan amount:

You should have at least $15,000 of student loan debt that you want to refinance if you're considering this company. Lower loan amounts are not available.

No co-signer release options:

If you are able to get a co-signer, keep in mind that they won't be able to be released from the loan until you're able to pay it off. Some other lenders allow co-signers to be released after your credit improves or you've been able to make some payments.
Education Loan Finance Reviews: Interest Rates, Fees and Terms
Education Loan Finance caters to many different types of student loan servicing options, including:
Undergraduate

Graduate

Parent PLUS

Student loan refinancing
As many Education Loan Finance reviews reveal, student loan refinancing rates and terms are competitive. As of Nov. 9, 2021, variable student loan refinance rates start at 2.39% and fixed interest rates start at 2.47%. Customers report that they save an average of $214 per month and will see an average savings of $18,699 by refinancing their student loans with Education Loan Finance.
Education Loan Finance Student Loan Requirements
If you're looking to refinance your student loans with Education Loan Finance, you will need a minimum credit score of 680. You must also be a U.S. citizen and have a minimum loan amount of $15,000.
In addition to the minimum score requirements, you should have a credit history of at least 36 months. Education Loan Finance will also consider your income. It prefers to work with borrowers who earn at least $35,000 annually and have at least a bachelor's degree.
Education Loan Finance Loan Repayment Terms
Education Loan Finance offers both fixed-rate and variable-rate student loan refinancing options. It also offers a variety of loan repayment terms, including:
Five years

Seven years

10 years

15 years

20 years
Terms for Parent PLUS Loan refinancing range from five to 10 years.
ELFI Loan Repayment Options
When you apply to refinance your student loans, Education Loan Finance allows you to choose the repayment term that works best for you. If you choose a shorter repayment term such as five or seven years, you could pay your loans off
faster and save money on interest in the long run. If you're looking to make your student loan payments more affordable to match your budget, you can choose a longer repayment term such as 15 or 20 years.
Keep in mind that with a longer repayment term, you may be subject to a slightly higher interest rate depending on your credit profile. Education Loan Finance has a convenient student loan refinancing calculator on its website to help you estimate your loan repayment options.
Alternatives to Education Loan Finance Student Loan Refinancing
Education Loan Finance may be the right option to help you refinance your existing student loan debt. On the other hand, it does have strict requirements, so it won't be a fit for every borrower. You'll want to carefully weigh all your choices and consider the pros and cons before choosing a student loan refinance company for your needs.
As you consider alternatives and compare student loan refinancing companies, Juno can help. Juno partners with lenders to help you find the best undergraduate student loans, graduate student loans and student loan refinancing options. Through its partnerships, Juno does all the heavy lifting for you and is able to offer exclusive rates and discounts to its members.
To learn more about Juno and join for free, contact us today so you can get the best student loan or refinancing offer for your situation.
---
Written By
Choncé Maddox
Choncé Maddox is a Certified Financial Education Instructor (CFEI) and personal finance freelance writer. Her work has been featured on LendingTree, CreditSesame, and Barclaycard. She earned a Bachelor's degree in Journalism and Communications from Northern Illinois University and resides with her family in the Chicago area.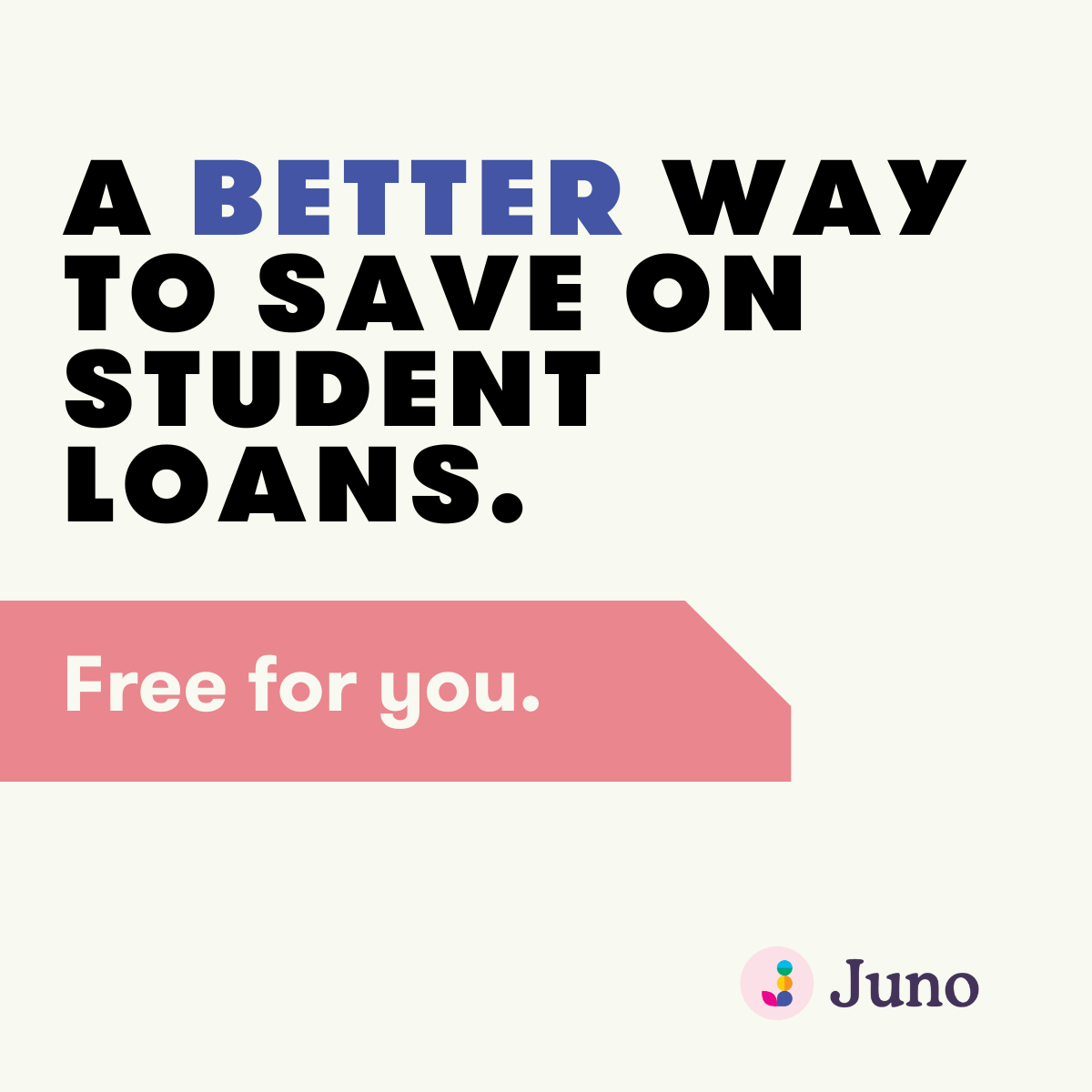 Learn more
Student Loan Calculators: