Funding U Review: Private Student Loans
Funding U could be a solid option for some students without a co-signer or credit history. Learn more in this Funding U review.
Taking out private student loans usually means you need to go through a credit check. After all, lenders want to see that you can handle debt responsibly, so the higher your score, the better. The downside is that many college students may have no or limited credit histories, making it difficult to qualify for private student loans by themselves.
Sure, you can get co-signer loans, but they may not always be feasible options. A relatively new lender, Funding University, or Funding U, offers loans without requiring a co-signer.
While it's typically a better idea to exhaust your federal student loan options first, getting a private loan can help you to bridge a funding gap, especially if you've reached your aggregate or annual loan limits.
To help you in your research, we've outlined relevant details in this Funding U review, including who will benefit and who won't.



Overview
Fixed APR: 6.99% to 12.49% with autopay discount, as of Oct. 25, 2021
Variable APR: None
Loan terms: 10 years
Minimum credit score: None
Loan amounts: $3,000 to $15,000
Origination fee: None
Prepayment penalty: None
Late fee: None
Rate check: See what you can qualify for without impacting your credit score
Deferment while enrolled in school: None (payment required while in school, but there are various repayment options)
Availability: 32 states
About Funding U
Founded in 2016, Funding U is a private student loan lender that offers loans without requiring a co-signer in 32 states.

One of the unique things about Funding U is that it doesn't base its lending decisions on your credit score. The lender makes decisions based on your projected student loan debt, your likelihood of graduating on time, your academic success and your projected post-graduation earnings.
Students in their first two years of college can qualify for a Funding U loan, but they may have to undergo a more strict approval process. Other requirements for all borrowers include having a work-eligible Social Security number, attending an eligible school, meeting Funding U's GPA minimum and being a resident of a state where the lender operates.



Funding Features
When shopping around for a private student loan lender, it's essential to look at what you need to qualify and other factors such as repayment plans. Here's what you can expect from Funding U.
Loan Requirements
Even though borrowers don't need a minimum credit score, there are reports that the typical credit score of approved borrowers is 640. That's not to say you won't be approved if your credit score is lower than that. Funding U looks at other factors, such as your academics, to make its approval decisions.
However, you can't qualify if you have had a history of delinquent payments or if you have filed for bankruptcy. Borrowers also must be enrolled full-time at a qualifying school and must have a debt-to-income ratio of 20% or less, and in most cases, they can't use the loan for past-due tuition.
The lender uses a proprietary scoring system to determine your eligibility. This scoring system uses different variables that don't have anything to do with your credit, one of which is your cumulative GPA. The GPA requirements vary by academic year.
Funding U also has requirements for your school in terms of its graduation rate. The school you plan to attend or are attending must have specific percentages of enrolled students who graduate within six years. Only then will your school be considered an eligible academic institution. If you're unsure about whether your school qualifies, contact Funding U.
Repayment Options
While you don't need to have a current income source to qualify for a Funding U loan, you must make either $20 minimum payments or interest-only payments each month while you're in school. After the six-month grace period following graduation, you'll be responsible for regular monthly payments.
Though there's no guarantee, you may be able to defer your loans up to 24 months. Check with the lender for the exact eligibility requirements. You may also qualify for forbearance — in 90-day increments — if you face a qualifying hardship such as a natural disaster or unforeseen economic circumstances. The lender doesn't have income-driven repayment plans that are typical of federal student loans.



Should You Get a Funding U Loan?
Getting a private student loan can be a smart idea if you've exhausted all your federal student loan options and other forms of financial aid. For instance, you'll want to see what kinds of grants and scholarships you can get in addition to federal student loans before shopping around for private lenders.
First, fill out and submit the Free Application for Federal Student Aid to see what your options are. Then, do some research on private lenders and see what you may qualify for based on your individual situation.
While Funding U is a good option for those who don't want a cosigner and have a reasonably low credit score, it may not be the best choice. Other lenders may have similarly lax requirements and may be able to offer you more competitive rates. It's also not a bad idea to consider using a co-signer with an alternative private student loan lender if doing so will help your chances of qualifying.
Juno can help you find the best loans for your situation. Juno works with partner lenders that offer private student loans for undergraduate students and private student loans for graduate students.
When you join Juno, you'll also join a group of borrowers. Juno negotiates on behalf of these groups, and partner lenders compete for their business, helping ensure each borrower gets the most affordable loans possible and the most competitive terms available.
To find out more about how Juno can help you to get the best rates on your private student loans, join Juno today.
---
Written By
Sarah Li Cain
Sarah Li Cain is a finance writer and a candidate for the Accredited Financial Counselor designation whose work has appeared in places like Bankrate, Business Insider, Financial Planning Association, Investopedia, Kiplinger, and Redbook. She's the host of Beyond The Dollar, where she and her guests have deep and honest conversations about money affects their well-being.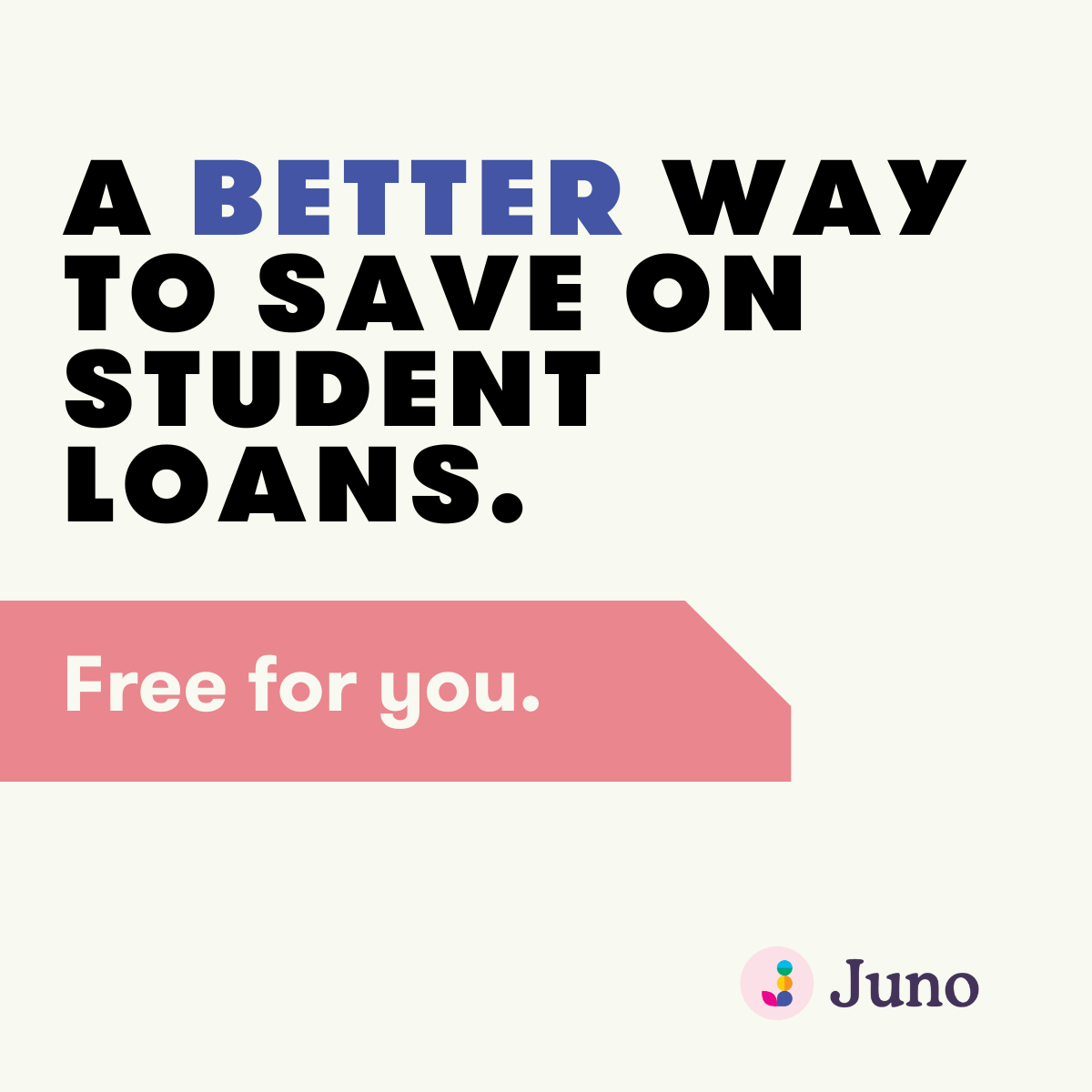 Learn more
Student Loan Calculators: