How Companies Are Helping Employees Pay Off Their Student Loans
American workers are finding it more difficult to keep up with their student loan payments, but some employers are offering assistance. Learn more about it here.
Student loan debt in the U.S. has reached an all-time high of $1.75 trillion dollars, according to data from the Federal Reserve. As American workers are finding it more and more difficult to keep up with their student loan payments, employers are increasingly offering assistance.



How the Landscape for Student Loan Benefits Has Changed
In 2019, just 8% of companies offered student loan repayment assistance as a benefit, according to a survey conducted by the Society for Human Resource Management.
But the coronavirus pandemic has highlighted just how much student loans impact everyday Americans. When the Coronavirus Aid, Relief and Economic Security (CARES) Act was passed in March 2020, it included a provision to pause payments, interest charges and collections of federal student loans held by the Department of Education.
Additionally, the CARES Act made it possible for employers to provide up to $5,250 in annual student loan payment assistance to their employees while exempting that benefit from the employee's income. That provision was set to expire at the end of 2020, but the Consolidated Appropriations Act extended it through 2025.
In response, the percentage of employers offering student loan repayment assistance as a benefit has more than doubled to 17%, according to a survey by the Employee Benefit Research Institute, and 31% more have plans to offer the perk.
To give you an idea of how companies are helping their employees, here are six unique approaches employers have taken.
Unum Lets Employees Trade Unused Vacation for Student Loan Payments
According to the Tennessee-based employee benefits provider, nearly half of its employees carry over unused paid time off (PTO) each year. That's likely because even first-year employees receive 28 days of PTO, including holidays and personal days, and that figure increases over time.
To help employees maximize that benefit, Unum started a program in 2019 that allows them to transfer up to 40 hours' worth of carryover PTO into a student loan payment. During that first year, the average payment was $1,200, and the company helped pay off $625,000 in debt.
Connelly Partners Offers a $1,000 Signing Bonus to Put Toward Student Debt
The marketing services company, which is based in Boston, offers each new employee a $1,000 signing bonus to be used to pay down a chunk of their student loan debt.
Then, once the employee reaches their five-year mark with the company, they'll get another $1,000 bonus for the same purpose.
On top of that, Connelly Partners, which launched its student loan repayment assistance program in 2016, offers up to $100 in monthly student loan payments.



Abbott Laboratories Ties Student Loan Payments to 401(k) Contributions
Student loan payments have set back young college graduates significantly, especially when it comes to saving for retirement. According to a 2019 study by TIAA and MIT AgeLab, 73% of student loan borrowers aren't maximizing their retirement savings.
Abbott Laboratories, a multinational medical devices and health care company based in Chicago, has come up with an idea to address the issue.
Specifically, the company's Freedom 2 Save program offers a 5% contribution to each employee's Abbott Stock Retirement Plan as long as the employee makes student loan payments equal to or greater than 2% of their eligible pay.
There's no requirement for employees to contribute to the retirement plan in order to receive the matching contribution. Abbott even got special permission from the IRS to offer the benefit.
First Republic Bank Offers Student Loan Payments Even for Parent Student Loans
The private bank and wealth management firm launched its student loan repayment assistance program in 2016. Like other private employers, the company offers monthly payment benefits, but they aren't just for recent college graduates. The bank also offers student loan payment assistance to parents who took out student loans to help their children get through school.
In their first year, employees receive $100 per month to put toward their student loans — undergraduate, graduate or parent loans. The next year, that gets bumped up to $150 per month. In the third year and beyond, it's $200 per month.
While some employers put a cap on how much they'll pay toward employee student loan debt, First Republic Bank doesn't. Just keep in mind that if you have parent loans, the loans must remain in your name to take advantage of the benefit for your child's student debt.
Chegg Offers Company Stock in Exchange for Student Loan Payments
In 2019, the educational services company created its Equity for Education program. The program provides employees with two or more years of experience with up to $5,000 annually in company stock awards, which they can sell to make student loan payments. The benefit for employees at the director and vice president levels is cut to $3,000.
That is in addition to the $1,000 the company gives to employees with student loan debt every year. You don't need to have a certain degree or even be a college graduate to qualify for the program.



Credit Suisse Partnered With SoFi to Offer Employees a Discount on Refinancing
According to a 2015 report by Quartz, Credit Suisse partnered with SoFi to offer employees a 0.25% interest rate discount if they refinanced their student loans with SoFi. While that doesn't sound like a lot, the little savings can add up.
Unfortunately, it's unclear whether Credit Suisse still offers this benefit. Also, the benefit may not have been as universally beneficial as others, as refinancing generally requires good credit.
Refinance Your Student Loans to Maximize Your Savings
You typically can get help with student loan payments from a private employer whether you have federal or private student loans. But if you have good credit and a solid financial situation, refinancing your loans could help you save even more money.
Juno can help you refinance your student loans by negotiating lower interest rates with lenders on your behalf. Checking your rate takes only a few minutes and could save you hundreds or even thousands of dollars.
---
Written By
Ben Luthi
Ben Luthi is a personal finance and travel writer based in Salt Lake City, UT. He loves helping people better understand their finances. When he's not traveling, Ben enjoys spending time with his kids, hiking, and watching films. His work has been featured in U.S. News & World Report, The New York Times, MarketWatch, Fox Business, and many other publications.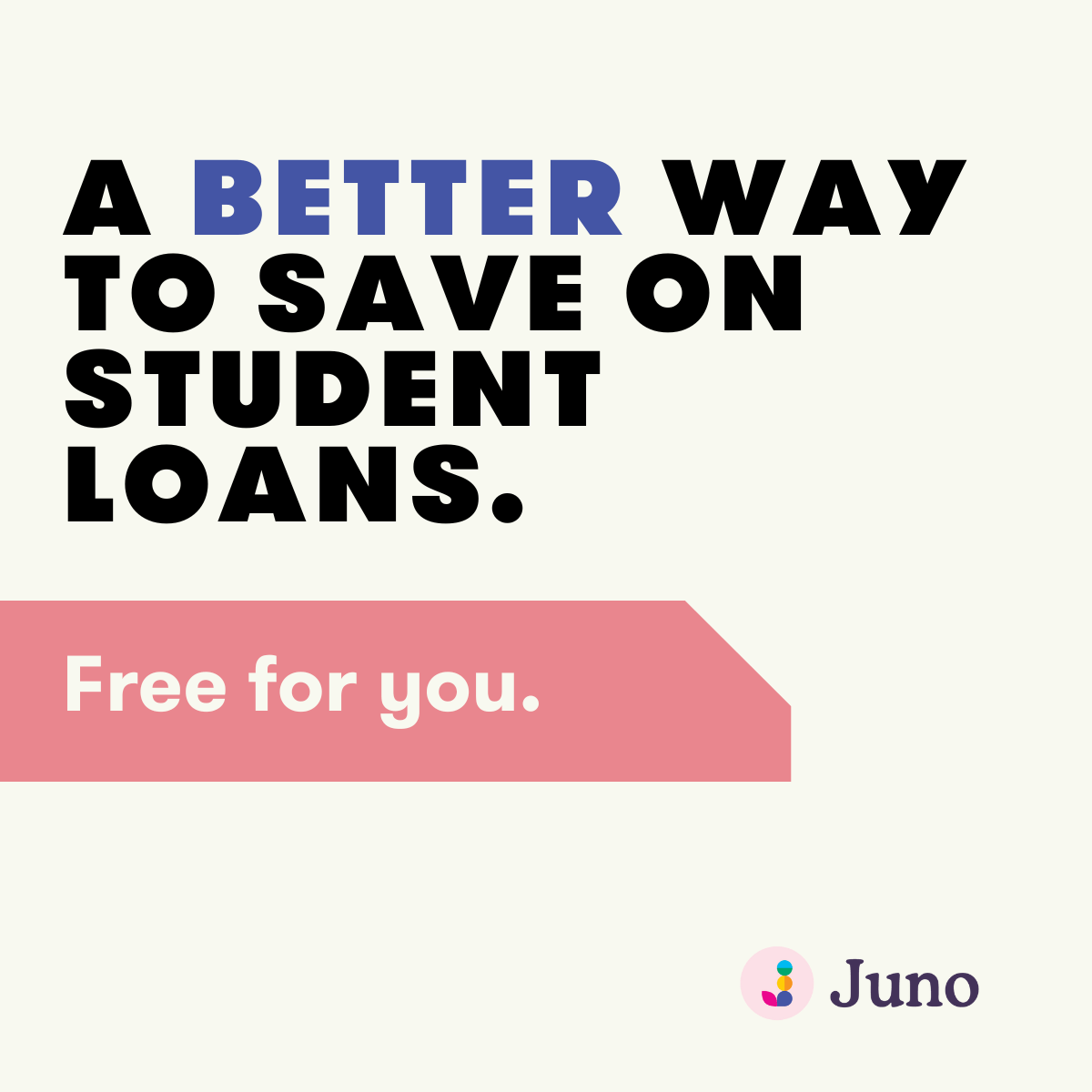 Learn more
Student Loan Calculators: