Best Private Student Loans for Bad Credit
Yes, there are student loans for bad credit, but your options may be limited. Read on to learn more about both federal and private student loans.
Yes, there are student loans for bad credit, even for borrowers who have limited or no credit history. That being said, your options may be more limited compared to someone who has a good credit score.
Look to Federal Loans First
Federal student loans are generally your best option if you have poor credit. That's because you don't need to have a credit history to qualify for a federal loan, and you have more flexibility in terms of repayment options compared to private lenders. Typically, undergraduate student borrowers simply need to fill out the Free Application for Federal Student Aid (FAFSA) form.
Federal loans have advantages and protections offered by the U.S. Department of Educaiton such as access to income-driven repayment, student loan forgiveness options, and access to federal student loan deferment. Private student loans may have a few of these features, but it varies from lender to lender and isn't guaranteed.
Remember that graduate students with PLUS loans may be required to undergo a credit check, but that's to ensure you don't have an adverse credit history.
There's also the matter of borrowing limits. One of the downsides of federal loans is that you may not be able to borrow the full cost of attendance. In this case, you may have to either come up with the remainder of the funds yourself or look to private student loans.



Researching Private Student Loan Options
Most private lenders will have some sort of minimum credit score requirement in addition to a possible income requirement. That could make it harder for you to apply for a loan on your own. Though there are lenders that may have more lenient credit requirements, you may have to pay much higher interest rates compared to someone with good credit.
One option to consider pursuing is to apply for a loan with a co-signer with good credit. This person is legally responsible for the loan if you don't pay it. Since it's such a huge responsibility, you'll want to speak with your potential co-signer beforehand to let them know your plans for making on-time monthly payments.
Before signing on the dotted line, check to see if the loan has a co-signer release. That feature allows the co-signer to be taken off your loan after you meet certain requirements, such as making consecutive on-time payments for a predetermined amount of time. If so, it can increase your chances of getting a lower interest rate.
Lenders to Consider for Students With Bad Credit
Your best bet is to shop around with multiple online lenders after you've exhausted your financial aid options, including scholarships, grants and federal loans. That way, you can see what your options are and find a loan that's a good match for you.
To help you get started, here's a list of private lenders you can consider.
Ascent Student Loans
This lender doesn't require a high score or a co-signer to qualify and instead qualifies you based on your income, school attendance and future earning potential after graduation. You can borrow a minimum of $2,001 and up to $200,000 aggregate for credit-based loans or up to $20,000 each year if you qualify based on future income potential. You'll also need to be enrolled in school at least half-time to meet eligibility requirements.
A.M. Money
The major downside for this lender is that it works with only a small number of schools nationwide. Borrowers can use their GPA instead of their credit score to qualify. The rates are generally in line with federal PLUS loan rates, and borrowers may be able to take advantage of a temporary income-based repayment plan.



Stride Funding
Stride Funding is an income share agreement, which means you'll make payments based on projected future earnings. Your income share rate could be higher or lower depending on what you make, and there is a repayment cap. Applicants need to be at least college juniors and typically pursue certain fields of study.
Funding U
If you need to borrow only a small amount, Funding U offers loans from $3,001 to $20,000 annually, and you don't need a credit history to qualify — you can check your rate without it affecting your credit score.
While the interest rate isn't the best out there, you don't need a co-signer. However, you'll be required to make payments while you're attending school and even during the grace period.
MPOWER
The rates you'll find with MPOWER are relatively high. However, international students who don't have a credit history and don't want a co-signer can most likely qualify for a loan. You'll also be assigned a dedicated loan adviser. If need be, you can qualify for forbearance for up to 24 months; MPOWER offers national disaster forbearance as well. That's more generous than what many other lenders offer.
However, there are some downsides: Only one repayment term (10 years) is available, no variable interest rates are offered, and you'll need to make payments even during the grace period and while you're in school.
It could be worth it since MPOWER won't factor in your credit score (it looks at your future income potential instead) and you can borrow up to $25,000 every semester, up to $100,000 aggregate.
Prodigy Finance
Another lender that offers loans to international students, Prodigy doesn't require co-signers and looks at your potential future income as its qualification requirement. Unfortunately, there are no fixed interest rates, and the variable rates are on the higher side.
Juno
Juno also offers private student loans for international students, who typically do not have a credit score in the U.S. Juno has two deals for international students, including a fixed-rate option with no co-signer needed.



Refinancing Is an Option
Even if you wind up with a private student loan with a high interest rate or the lender doesn't offer a co-signer release, you can refinance your loan. Juno has partnerships with multiple student loan refinancing companies and uses group buying power to negotiate better deals. Once you've built up your credit history or raised your score, you may be able to refinance your loan after graduation to a lower rate and release your co-signer (if you have one).
---
Written By
Sarah Li Cain
Sarah Li Cain is a finance writer and a candidate for the Accredited Financial Counselor designation whose work has appeared in places like Bankrate, Business Insider, Financial Planning Association, Investopedia, Kiplinger, and Redbook. She's the host of Beyond The Dollar, where she and her guests have deep and honest conversations about money affects their well-being.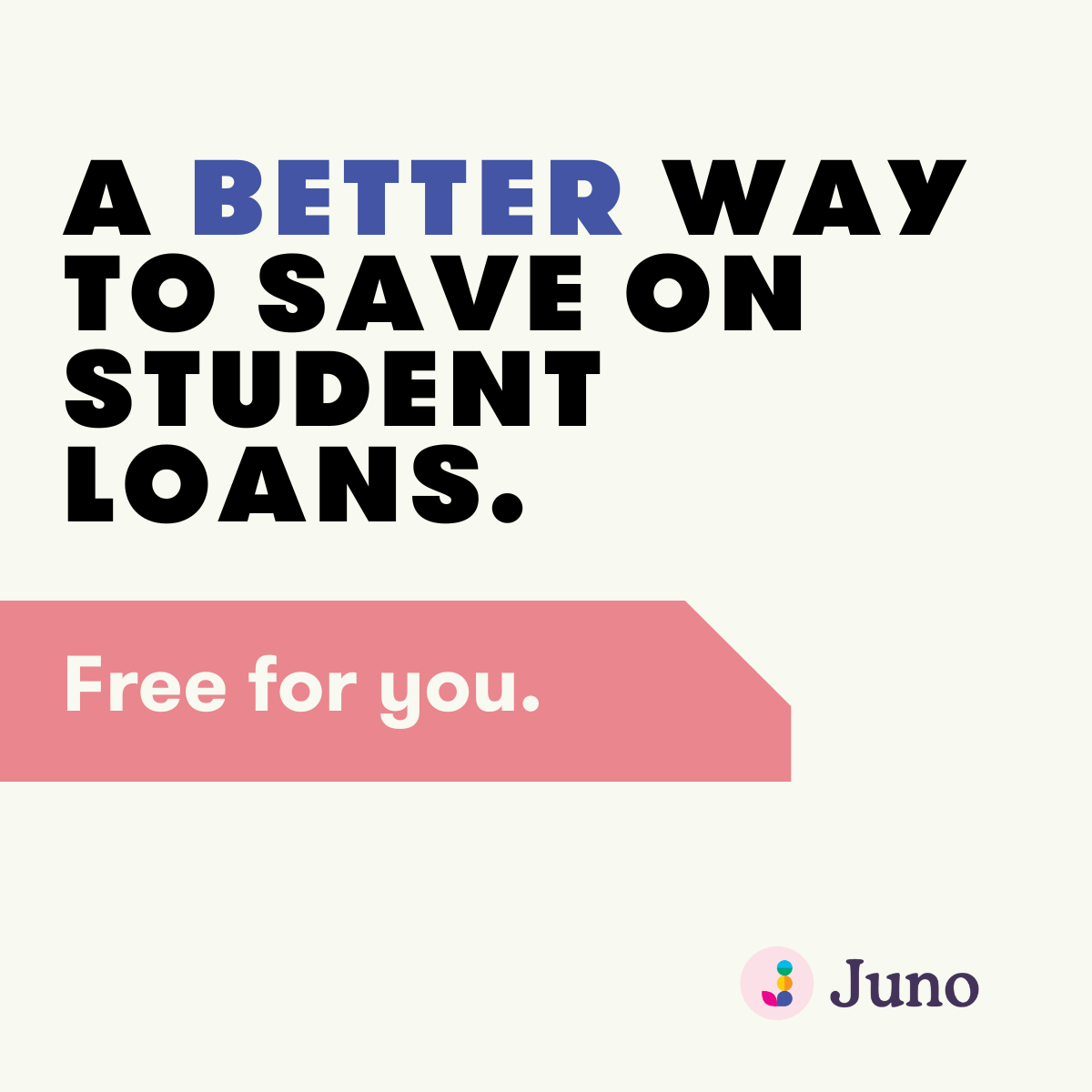 Learn more
Student Loan Calculators: