The Best Ways To Refinance Student Loans Without a Degree
Refinancing student loans without a degree can be tricky, but options do exist. Learn more here.
Whether you're still in school or taking a break from your education, refinancing student loans with no degree can be tricky. However, you're not alone — 36 million Americans fall into the "Some College, No Degree" category, according to the National Student Clearinghouse Research Center. That's about 10 percent of the total population. Some lenders are willing to refinance student loans for borrowers without a degree who have a good credit score, a record of on-time payments, and steady work. It's worth checking to see if you can refinance your student loans without a degree because you could save money on interest, reduce your monthly payment or get the loans paid off faster.



How does refinancing save money?
Refinancing debt means replacing an existing loan with a new one. When refinancing student loan debt, borrowers usually look for a new loan with a lower interest rate. Getting a lower rate on your student loan refinance can decrease your monthly payment and reduce the amount of interest you pay over the life of the loan. You can also choose a shorter loan term when you refinance, which may not lower your monthly payment but could help you pay off your education debt faster.
Both federal and private student loans can be refinanced. However, federal student loan borrowers forfeit access to certain benefits, such as income-driven repayment, when refinancing. If you have federal student loans, wait until the payment moratorium expires in May 2022. That is an excellent time to reevaluate your situation and decide if refinancing makes sense for you.
Refinance vs. Consolidation: What's the difference?
Federal student loan borrowers have the option of consolidating multiple loans into one. The primary advantage of consolidation is the convenience of having just one monthly payment instead of several. However, consolidating federal student loans won't get you a lower interest rate. You may even end up paying more in interest over the life of the loan if you extend the term.
On the other hand, refinancing student loan debt allows you to combine multiple loans into one convenient monthly payment. Perhaps more importantly, it can help you save money on interest over the life of the loan. The only downside to refinancing federal student loans is, as mentioned above, that you give up certain benefits. Ultimately, if your goal is to pay off your student loan debt as quickly and inexpensively as possible, refinancing may be the best option for you.
How To Qualify For a Student Loan Refinance Without Degree
To get a student loan refinance without graduating, you'll need to meet specific requirements. While most lenders require a completed degree, Earnest offers a refinance option for borrowers without a degree who have a credit score above 700 and last attended college more than six years ago. You can learn more about Juno's deal with Earnest here. General requirements for refinancing include:
Have $5,000 or more in student loan debt

Have no bankruptcies or defaults

Have attended a Title IV-accredited nonprofit school

Have a steady record of employment and income

Be a U.S. citizen or permanent resident
If you don't meet all of these qualifications, you may be able to refinance with a co-signer.
If You Can't Refinance Student Loans Without a Degree
If your student loan refinance application is rejected because you haven't graduated, there are still options.
Federal Loans
As an alternative to refinancing, apply for one of the four income-driven repayment plans. These plans set your monthly payment to an affordable amount based on your income and family size.
The downside to income-driven repayment is that it may take longer to pay off your loans. You also may pay more in interest over the life of the loan. However, it is a better option than defaulting if you can't afford your current monthly payment and can't refinance.
The U.S. Department of Education also offers temporary relief in the form of deferment or a forbearance to borrowers who qualify. This option temporarily suspends your loan payments, but interest may continue to accrue. All federal student loans are currently in a payment and interest-accrual pause until May 1, 2022.
Private Loans
If you cannot refinance your private student loans without a degree, reach out to your lender to see if it can offer you any options to make your monthly payment more affordable. Again, it's always better to talk to your lender and let it know you're struggling instead of going into default.
Make yourself a stronger applicant before you try to refinance again.
Take these steps to improve your chances for a student loan refinance with no degree:
Stick with your job:

A steady employment history over a few years will enhance your chances of approval.

Don't go into deferment or forbearance:

Try to avoid suspending payments if you can afford it. Deferment and forbearance can be a red flag to refinancing lenders that you may be more likely to default.

Boost your credit score:

Pay all your bills on time, don't apply for new debts and try to pay off other debt balances you have, including credit cards.

Get a co-signer:

If you have a spouse or family member with a steady income and good credit score, they could strengthen your application by serving as a co-signer. However, their credit score will be impacted, and they will have to pay the loan back if you default. So, proceed with care.

Finish your degree.

If feasible, returning to school to complete your degree program will make it easier to refinance your loans afterward.
Get a Student Loan Refinance Without Graduating
Are you looking to lower your monthly student loan payment and save on interest? While most lenders require a degree for student loan refinancing, one of Juno's partners, Earnest, now has an option for student loan refinance without graduating. The last attending date should be more than six years ago, and your credit score must be 700 or higher. Earnest also offers a 0.25% rate discount to Juno members.
Join Juno today to find the best student loan refinance options. It's free, takes less than one minute and doesn't require a credit check to view our negotiated deals.
---
Written By
Elizabeth Spencer
Elizabeth Helen Spencer is a personal finance and travel writer based in the Philadelphia area. She holds an MFA in Creative Writing and has been featured in Money Under 30 and HuffPost.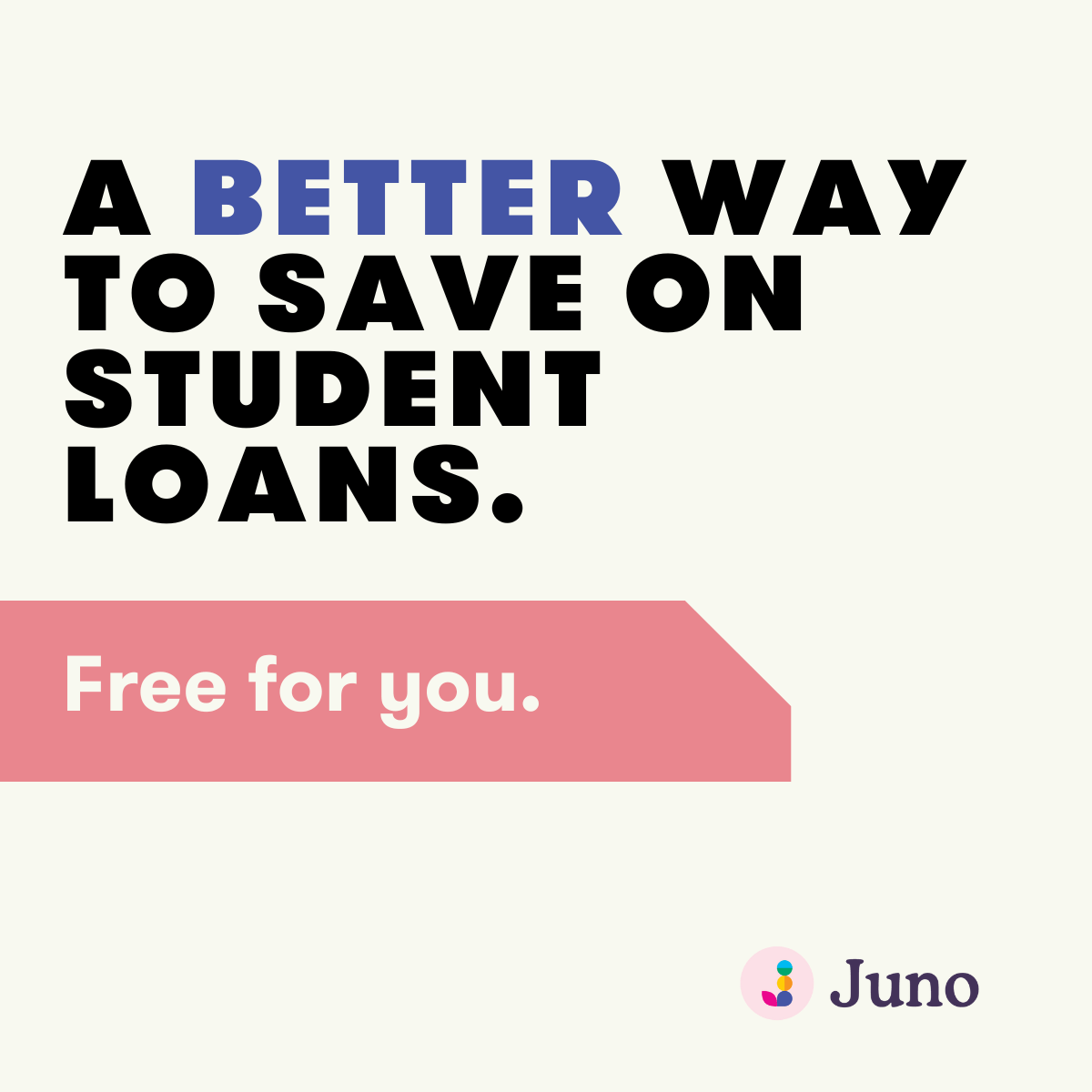 Learn more
Student Loan Calculators: