How to Get Grants for Living Expenses While in College
Tuition is not the only cost of going to college. Finding ways to cover your living expenses is crucial. This article will help you begin to understand this other expense.
If you thought you could only get free money to pay for tuition and books, think again.
Grants are awards for free money to use for college-related expenses. Aside from paying for courses, fees, and school costs, you can use grants for other things, including living expenses. Whether you're on campus or off, here's how to find grants to pay for school and living expenses.



How to get federal grants
When you complete the Free Application for Federal Student Aid, or FAFSA, your expected family contribution (EFC) will determine how much federal aid you receive. The lower your EFC, the more money you'll get from federal grants, including:
Federal Pell Grant:

These are awarded to almost every applicant and award amounts are based on need and total expected family contribution. The maximum amount awarded for the 2021-2022 year is $6,495. The Pell Grant can be renewed for up to four years, or eight semesters, of schooling.

Federal Supplemental Educational Opportunity Grant (FSEOG):

Get up to $4,000 a year, depending on need.

Iraq and Afghanistan Service Grant:

This grant is for students who don't qualify for a Federal Pell Grant based on EFC but are otherwise eligible. Your parent or guardian was a member of the U.S. Armed Forces that died during military service in Iraq or Afghanistan. You won't get more than you would if you were to receive the Federal Pell Grant.

Teacher Education Assistance for College and Higher Education (TEACH) Grant:

Must be enrolled in a TEACH Grant-eligible program, meet certain academic achievements, and participate in Teach Grant counseling to qualify. Grants provide up to $4,000 per year to students beginning a career in teaching in a high-need field, a school that serves low-income families, and teach for at least four academic years within eight years of completing your degree. If you don't fulfill your obligations to the grant, it could be converted into a Direct Unsubsidized Loan.
Each federal grant allows you to get funding every year you're enrolled as long as you complete a FAFSA annually and meet the requirements set by the grant.



Private grants
Aside from government-funded grants, you can apply for grants from private businesses and nonprofits. Many grants that are based on need have a set criteria for how to qualify. For instance, you might need to major in a particular field. For others, they could be based on your race, gender, sexual orientation, or your family background.
You can explore many types of grants by browsing through grant search engines or pairing like terms together. For instance, "grants for teachers in Indiana" or "grants for Black nurses."
Thousands of companies offer grants and many times, not enough people apply for them. If you can find grants that fly under the radar, you might be able to score enough free money for school and completely avoid borrowing student loans.
Make sure you keep a handy spreadsheet of your grants progress, including the grants you've applied to, the ones you're completing applications for, due dates, award amounts, if it's ongoing, and any necessary documents you need to get. This will help you keep track of your grants and avoid duplicate applications to make sure you get enough free money to pay for school.
How to use grants for living expenses
Most grants, including those that come from federal, state, and local governments, are paid directly to the school up to twice a year: once in the fall and again for the spring semester. Any extra funds left over go back to the student.
If you live on campus, your grant money will go towards your total cost of room and board, whether you live in a dorm or an on-campus apartment. If you're living off-campus, you'll get any extra money at the beginning of the semester through a refund which can be used for other expenses, including books, supplies, and if necessary, living expenses.
What happens if you need more money to cover living expenses?
Borrowing student loans should come after you've exhausted all your free money options through grants and scholarships. But student loans can help fill the financial holes that might still be there if you don't have enough free money to pay for school.
When you complete your FAFSA, you'll also qualify for Direct Subsidized Loans, which are based on need, and the government subsidizes — or covers — the interest while you're in school. Direct Unsubsidized Loans aren't based on need and anyone can request them. But you're responsible for the interest that accrues while you're in school.
All student loans — federal and private — can be used for living expenses while you're in school at least half-time. Your total cost of attendance is based on your on- or off-campus boarding. While both types of loans will pay your school first, any remaining funds will go to you to cover extra costs that the school doesn't directly pay for, including rent, furniture, supplies, and other related costs.
Juno can help you to find a student loan or refinance a loan at the most competitive possible rate. We get groups of buyers together and negotiate on their behalf with lenders to save them money on private student loans and private student loan refinance loans.
Join Juno today to find out more about your options for affordable private student loans to help fund your degree.
---
Written By
Dori Zinn
Dori Zinn is an award-winning journalist based in South Florida. Her work has appeared in Wirecutter, Bankrate, MSN Money, Yahoo! Finance, Quartz, Credit Karma, Huffington Post. She has a decade of experience covering credit, debt, budgeting, investing, real estate, financial literacy, and other related personal finance topics.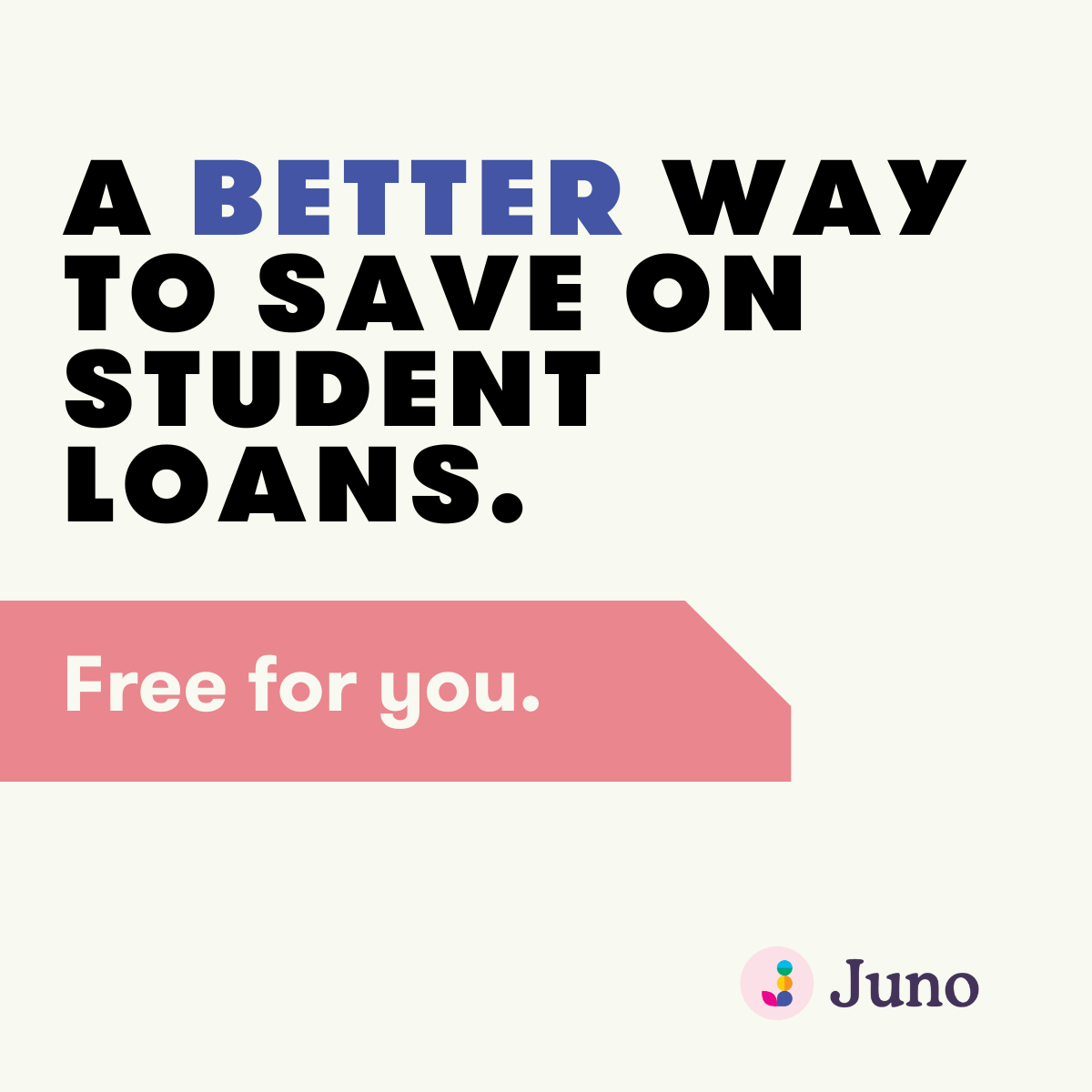 Learn more
Student Loan Calculators: