Splash Financial vs Earnest: Student Loan Refinancing Compared
Splash Financial and Earnest are two of the most popular choices to refinance loans. Read on to learn more about each option and decide which is best for you.
Student loan refinancing offers numerous benefits for borrowers who took out debt to pay for college. When refinancing your student loans, you can consolidate lenders, extend the term and lower your monthly payment. Splash Financial and Earnest are two of the most popular choices to refinance loans. In this article, we compare Splash Financial and Earnest to help borrowers decide which one offers the best repayment terms for their situation.
Benefits of student loan refinancing
Student loan refinancing is a popular choice for many borrowers as they repay their loans and work to achieve their financial goals. The main benefits of refinancing your student loan debt are:
Lowering interest rates

Reducing monthly payments

Changing the repayment term

Saving money on your loan

Consolidating into one payment

Adding or removing a co-signer
In many cases, borrowers can explore loan options and receive quotes without affecting their credit score. Before applying for a student loan refinance, check your credit report to ensure that you qualify for low interest rates with these student loan refinancing lenders.
How to choose a refinancing offer
When comparing student loan refinancing offers, it is important to look at the fine print for the lenders. Here are a few of the most important items to pay attention to.
Do your student loans meet their eligibility requirements?

Is a credit check required to find out rates?

Are private student loans eligible?

Do they refinance Parent PLUS Loans?

Do they offer student loan consolidation?

How do the refinancing rates compare to your current rate?

What repayment plans are available?

Do they offer

fixed-rate or variable-rate loans

?

Are there any application or origination fees?

What is the minimum credit score required?

What repayment options are available?

How much is your monthly payment?

What is the loan term?

Are there any prepayment penalties?

Are the loans eligible for deferment or forbearance?

Is a co-signer required?
Splash Financial vs Earnest: How they compare
When refinancing your federal student loans or private student loans, two of the most popular student loan refinance companies are Splash Financial and Earnest. Let's compare each student loan lender to determine which is the best fit for your situation.
Splash Financial
Pros
Cons
Not all student loans qualify

Minimum loan amount is $5,000

Splash is a comparison site, not a lender
What it does best. Splash Financial is a student loan refinancing portal that compares lender offers based on your loan details. Borrowers provide their student loan details and personal information, and then Splash Financial produces a list of lenders looking for borrowers matching your profile.
In order to refinance your student loans with Splash Financial, you must have graduated with a four-year degree from an eligible college or have an associate's degree in a selected field. Parents may refinance loans in their own name or their child's name. If the degree wasn't completed, you cannot refinance your student loans with Splash Financial.
Read our Splash Financial review to learn more about your refinancing options.
Earnest
Pros
Variable and fixed interest rates with autopay discount

Customizable repayment terms

Matches interest rates from competitors

Additional benefits for

Juno members
Cons
Must have a credit score of at least 680

Loans are not available in all states (Nevada, Kentucky)

Minimum loan amount of $5,000
What it does best. Earnest is a lending company that offers multiple loan types, including student loan refinancing. Borrowers can refinance some or all of their student loans and customize the monthly payment to fit their budget. Loans are available for students and parents and even for unfinished degrees.
You can apply for a refinance loan with Earnest through its website and receive a decision in minutes. Loan payments can be customized, including the option for biweekly payments or to skip one payment each year. Earnest has in-house underwriting and lending servicing teams, so you always speak with the company instead of a third-party servicer.
Splash Financial vs Earnest: Which should you pick?
The best choice of refinancing companies depends on the features and loan terms that are most important to you. Based on your loan type and credit history, you may be able to get a lower interest rate on a new loan.
Both Splash Financial and Earnest refinance federal student loans, private student loans and parent loans with either a variable or fixed interest rate. Each loan servicer offers an autopay discount to get an even lower interest rate on refinancing. The application process for either lender is quick and can be completed online.
Splash Financial is a good choice for borrowers who want to evaluate and compare lenders all in one place. It is available in all 50 states. And Splash offers loan consolidation if you want to combine your loans with your spouse to get a better interest rate or loan terms.
Earnest is the choice for borrowers who want to customize their loan payments to fit their budget. And when it issues a loan, it will continue to service that loan with its in-house team, which means you never have to worry about where to send your payments. Additionally, Earnest is available to a wider array of borrowers, including those who didn't complete their degrees.
Remember to read the disclaimers on both lenders' websites. For example, both student loan refinance companies have a minimum education loan amount of $5,000. If your balance is below that level, you may be better off using a 0% introductory APR credit card or a personal loan from a bank or credit union to pay off your student loans.
The bottom line
COVID-19 deferral of student loan payments and interest ends on Dec. 31, 2022. When payments resume, it may make sense to refinance your student loans and lock in a low interest rate if your credit score qualifies. Juno's deals with Earnest and Splash are worth comparing to see which company can get you the better rate. Both offer unique benefits that borrowers may find attractive. It is important to understand your options and have a plan of action to lower your payments and minimize interest on your loans.
---
Written By
Lee Huffman
Lee is a travel writer and podcast host based in Nashville, Tennessee. Lee spent 18 years in banking and investments and now uses that insider knowledge to write about credit cards, travel, and other personal finance topics.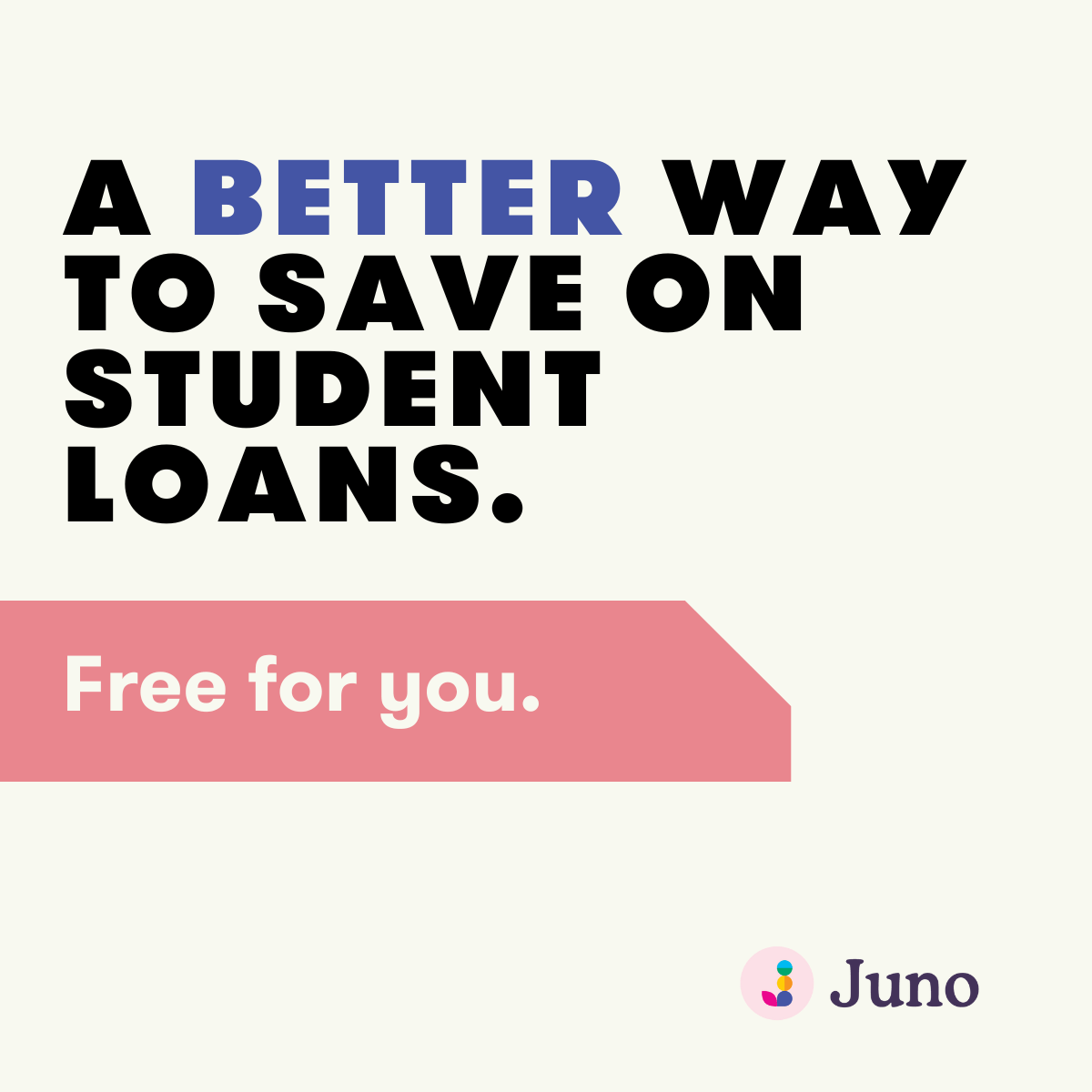 Learn more
Student Loan Calculators: