How Much Do Graduate Students Get Paid?
Planning to pay for grad school can be intimidating. This article will breakdown how much you could get paid for work as a grad student.
A graduate degree program can cost tens of thousands of dollars, causing many graduate students to seek out opportunities to earn an income. According to a study by Georgetown University, 76% of graduate students work at least 30 hours a week to defray the costs of their education and to reduce their reliance on student loans.
But how much do grad students make, and how do graduate students get paid? Here's what you need to know.



How do graduate students get paid?
There are two primary ways graduate students can receive an income: through a stipend or via employment:
Graduate stipend:

Some schools provide a stipend to graduate students who participate in a fellowship or assistantship program. The purpose of the stipend is to cover your living expenses while you spend your time on research and other academic projects.

Employment:

Many schools hire graduate students as employees. A common job opportunity for grad students is to be a teaching assistant. Teaching assistants may teach lower-level classes, develop coursework materials, prepare, give and grade exams, and more.
Alternatively, you may opt to get a job off-campus. But if you want to do something that allows you to gain experience in your field of expertise, doing a fellowship or assistantship or working as a teaching assistant may be a better choice.
How much do grad students make?
A graduate student's salary can vary depending on the type of employment they have. If you become a graduate teaching assistant, which is a common job for grad students, the average salary is $41,170, according to the Bureau of Labor Statistics (BLS).
But depending on the school, the subject matter, your experience, how many hours you work and other factors, your salary can vary. According to BLS, the 90% percentile of graduate teaching assistants earns $62,260 per year, while the 10% percentile earns just $22,730.
If you decide to do a fellowship or an assistantship program, stipends are generally less lucrative. According to Inside Higher Ed, the average graduate student stipend can range from $13,000 to $34,000. How much you earn with a stipend will depend on the program, educational institution and location.



Is the average graduate student salary enough?
Earning money via employment or a stipend can help cover some of the costs of a graduate program. But in most cases, it likely won't be enough to make it possible for you to avoid student loans.
In fact, while just 25% of all student borrowers attended graduate school, former grad school students owe roughly half of all student debt, according to a study by the Brookings Institution.
That's because a Master's degree can cost anywhere between $30,000 and $120,000, says EducationData.org. And while you may be able to earn enough to pay for some or all of your tuition, you may also need to pay for room and board, transportation, books and supplies, and other living expenses.
Carefully consider student loan options before applying
As a graduate student, you don't get nearly as many financial aid options as undergraduate students. Grants and scholarships are limited, and subsidized federal student loans aren't available at all.
This means that most graduate students will need to turn to unsubsidized federal student loans and private student loans to cover the gap.
However, it's important to do your research before you start applying. With federal student loans, you'll need to fill out the Free Application for Federal Student Aid (FAFSA) in order to be eligible. With private lenders, you'll apply directly with an individual lender.
Here's more information on each of your student loan options:
Federal Direct loans:

These loans offer reasonable interest rates and upfront loan fees, but you may be limited on how much you can borrow, and that includes your undergraduate student loans, too. There's no credit check involved if you apply for these loans, and you'll get access to certain

federal benefits

.

Federal Direct PLUS loans:

Direct PLUS loans offer the benefit of higher loan amounts — you can typically borrow up to the cost of attendance of your school minus any other financial aid you receive. However, Direct PLUS loans carry a higher interest rate and a higher loan fee, which is deducted from your loan disbursement. The federal government will run a credit check if you apply for this loan type, but they're looking for certain

adverse credit items

, so you won't be in trouble if you haven't had the chance to build a credit history.

Private student loans:

With private student loans, loan terms aren't standardized like they are with federal student loans. Instead, loan terms can vary depending on the lender and your credit situation. If you have a solid credit history and a good income, you can score a low interest rate. But if you haven't had the chance to build credit, you may be faced with high rates unless you can find a creditworthy cosigner to apply with you. Private student loan companies typically allow you to get prequalified without a hard credit check, so you can view and compare rate offers.
If you're considering private student loans, consider using Juno's graduate student loan program to get the guaranteed lowest interest rate on your loan. Juno negotiates with private lenders to help save graduate students money.
Not only will you get exclusive rate discounts, but you'll also get a price match guarantee if you find a better offer from a different lender — you'll get the difference in the form of a cash payment.



The Bottom Line
As a graduate student, you can make relatively good money as a teaching assistant or via a fellowship or assistantship program. But, unfortunately, salaries and stipends can vary wildly depending on a lot of factors. And even if you're earning a solid income, you may still need to rely on student loans to help you get through your program.
As you shop around and consider loan options, Juno can help you negotiate lower interest rates and potentially save you thousands of dollars on your student loan debt.
Juno can help you find the most affordable possible rates on private student loans. We negotiate on behalf of borrowers with partner lenders to help each student qualify for the best rates they can given their financial situation.
Join Juno today to find out more about your options for affordable private student loans to help fund your degree.
---
Written By
Ben Luthi
Ben Luthi is a personal finance and travel writer based in Salt Lake City, UT. He loves helping people better understand their finances. When he's not traveling, Ben enjoys spending time with his kids, hiking, and watching films. His work has been featured in U.S. News & World Report, The New York Times, MarketWatch, Fox Business, and many other publications.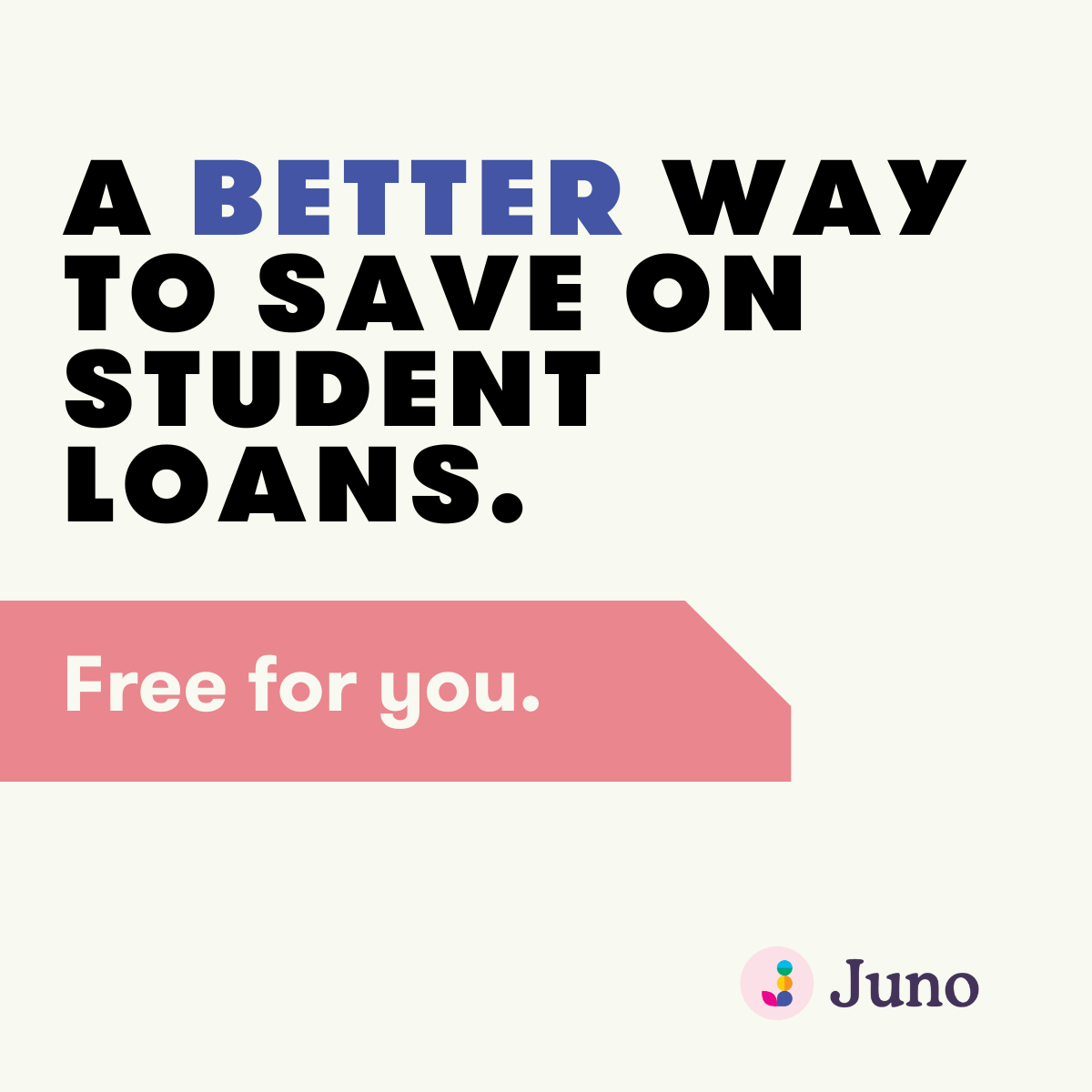 Learn more
Student Loan Calculators: