How to Pay Off Your Student Loans in Five Years or Less
If you want to learn how to pay off student loans in 5 years or less, here's what you need to know to avoid having them on your shoulders for decades.
After the buzz of graduating from college wears off, reality sinks in — your student loan payments are due. Your payments can eat up a significant amount of your paycheck, and interest can rapidly accrue on the balance.
The worst part? You could be in repayment for — gulp — decades. While the standard repayment term on federal student loans is 10 years, alternative payment plans can have terms as long as 30 years.
Being in debt for that long can be exhausting, and your monthly payments can prevent you from accomplishing other goals. The key to eliminating that burden is to pay off your loans as quickly as you can. While that may seem impossible, there are some tips and tricks you can use to pay off student loans in five years or less.



Benefits of Paying Off Your Loans Early
Getting rid of your student loans ahead of schedule would be amazing, right? But while it would be great not to worry about your monthly payment anymore, there are several other advantages to accelerating your debt repayment.
1. You Can Focus on Your Financial Goals
According to the Federal Reserve, the typical borrower's student loan payment is between $200 and $299 per month. After taking into account income taxes, rent, and other essentials, your student loan payment can take up a significant portion of your remaining pay.
By paying off your loans, you could dedicate your monthly payments to your other priorities, like saving for retirement, establishing an emergency fund, building your savings for a down payment for a house, or starting your own business.
2. You Can Lower Your Stress
Carrying a substantial amount of debt can be immensely stressful. Even if you have enough money to comfortably afford your payments, knowing that you have a large balance can keep you up at night. If you're the kind of person that is averse to any debt, paying your loans off early can provide you with substantial relief.
3. You Can Save a Significant Amount of Money
By paying off your loans early, you can cut down on the amount of interest that accrues. In fact, you can save thousands by reducing your repayment term to just five years.
For example, let's say you have $30,000 in student loans at 5% interest and a 10-year repayment term. Over the life of your loan, you'll repay a total of $38,184; interest charges will cost you over $8,000.
But say you decided to pay off your debt aggressively. By increasing your monthly payments, you pay off your loans in just five years. By slicing your repayment term in half, you'll repay just $33,968 — a savings of over $4,000.



10-Year Loan Term

5-Year Loan Term

Interest Rate

5%

5%

Monthly Payment

$318

$566

Total Interest

$8,184

$3,968

Total Repaid

$38,184

$33,968

Total Savings: $4,215
How to Pay Off Student Loans in 5 Years: 7 Strategies to Use Now
If you're motivated to pay off your loans as quickly as possible, you can use these seven tips to pay off your student loans in five years or less:
1. Create a Budget
If you're like many recent graduates, you may not have a monthly budget. But creating a budget — and sticking to it — is key to managing your finances and eliminating your loans. It will show you how much money you have coming in and how much you spend each month, giving you an idea of how much extra money you can apply to your student loans.
If you're not sure where to start, tools like Mint and TrueBill are simple and easy to use.
2. Slash Your Expenses
Once you have a budget, you can review it and look for corners to cut. You can reduce the number of streaming services you subscribe to, limit dining out to once a month, and shop around for a cheaper smartphone plan.
Even small changes can add up. For example, let's say you cancel Netflix; a basic Netflix plan is $9 per month. If you had $30,000 in student loans at 5% interest and a 10-year term, your monthly payment would be $318 per month.
If you add the $9 you save by cutting Netflix to your monthly payment, you'll increase it to $327. By the time you pay off your loans, that little change will allow you to pay off your loans four months sooner, and you'll save $343 in interest charges.
3. Increase Your Income
There are only so many ways to reduce your spending. If you've already cut down your expenses, you need to focus on boosting your income so that you'll have more money to apply to your loans:
Ask for a Raise:

If you're a high performer at work, consider asking your boss for a raise. It's one of the easiest — and fastest — ways to increase your income.

Switch Jobs:

If a raise isn't in the cards, consider applying for a new job. Switching to a new position can help you earn a much higher pay increase than you'd get otherwise.

Pick Up a Side Gig:

You can also pick up a side hustle during the evenings or weekends. You could freelance in your field, deliver takeout meals, or walk dogs for extra cash.
4. Ask Your Employer for Help
You may not realize it, but your employer may be a big help during your student loan repayment term. According to the Society for Human Resource Management, 8% of employers offer student loan repayment benefits. Functioning like employer-sponsored retirement plans, student loan assistance programs typically match your payments up to a percentage of your salary.
For example, if you earn $50,000 per year and your employer matches 100% of your payments up to 5% of your salary, you can receive up to $2,500 per year in student loan repayment assistance. Your employer's help can significantly lower your balance and reduce the amount of interest that accrues so you can pay off your loans faster.



5. Use Extra Cash Wisely
Throughout the year, you may receive little unexpected windfalls. Whether it's a birthday gift from a favorite aunt or a tax refund from the government, you can use those windfalls to pay off your student loans even faster.
In 2020, the IRS reported that the average tax refund was $2,741. If you had $30,000 in student loans, a 10-year term, and a 5% interest rate and applied that amount as a lump sum payment toward your loans, you'd pay off your loans 14 months earlier. Plus, you'd save $1,657.
6. Claim the Student Loan Interest Tax Deduction
If you made payments toward your student loans during the past tax year, you may be able to claim the student loan interest tax deduction when you file your tax return. If you qualify, you can deduct up to $2,500 or the amount of interest you paid, whichever is less.
By claiming the deduction, you can reduce your taxable income. And with a lower income, you may qualify for a larger tax refund.
7. Refinance Your Student Loans
If you have good to excellent credit and a steady source of income, you could refinance your student loans and qualify for a lower interest rate. By reducing your interest rate, more of your monthly payment will go toward your loan's principal, allowing you to save money.
If you opt for a shorter loan term, you can qualify for a better rate; most lenders reserve their lowest rates for those who select a loan term of five to eight years.
Just how much could you save? Let's say you refinanced the loan we mentioned above and qualified for a five-year term with a 2.5% fixed interest rate. With those terms, you'd save over $6,000 compared to the original loan.
| | | | |
| --- | --- | --- | --- |
| | Original Loan | Accelerated Repayment | Refinanced Loan |
| Loan Term | 10 Years | 5 Years | 5 Years |
| Interest Rate | 5% | 5% | 2.5% |
| Monthly Payment | $318 | $566 | $532 |
| Total Interest Paid | $8,184 | $3,968 | $1,945 |
| Total Repaid | $38,184 | $33,968 | $31,945 |
| Total Savings: | N/A | $4,215 compared to original loan | $6,238 compared to original loan |
Juno's Exclusive Student Loan Refinance Deals
---
Best for Most
Cosigner:
Can't be refinanced with a cosigner
Rates:
Fixed starting at 5.19% APR, Variable starting at 5.72% APR including autopay and Juno discount.
Juno benefit:
Rate reduction of 0.25%
Check:
Soft Credit Check to get rates; Hard Credit Check to refinance
---

Alternative Best for Most
Cosigner:
May be able to refinance with a cosigner
Rates:
Fixed starting at 4.96% APR, Variable starting at 4.99% APR. May include autopay discount.
Juno benefit:
Up to $1,000 cash back based on loan amount
Check:
Soft Credit Check to get rates; Hard Credit Check to refinance
---

Best for Medical Professionals
With Juno, you can get connected to the lenders that are offering the best deals right now. From special discounts to cash back offers, you can refinance your loans and qualify for better interest rates and terms than you have now. You can check your rate in just three minutes and find the best student loan refinancing lender for you.
Juno can help you find the most affordable possible rates on refinancing student loans. Juno negotiates on behalf of borrowers with partner lenders to help each student qualify for the best refinance rates they can given their financial situation.
Join Juno today to find out more about how you pay off your student debt faster.
---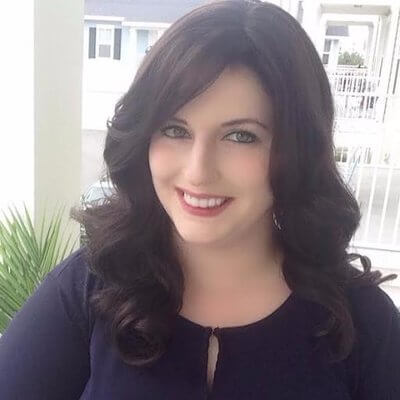 Written By
Kat Tretina
Kat Tretina is a freelance writer based in Orlando, FL. She specializes in helping people finance their education and manage debt. Her work has been featured in Forbes, The Huffington Post, MarketWatch, and many other publications.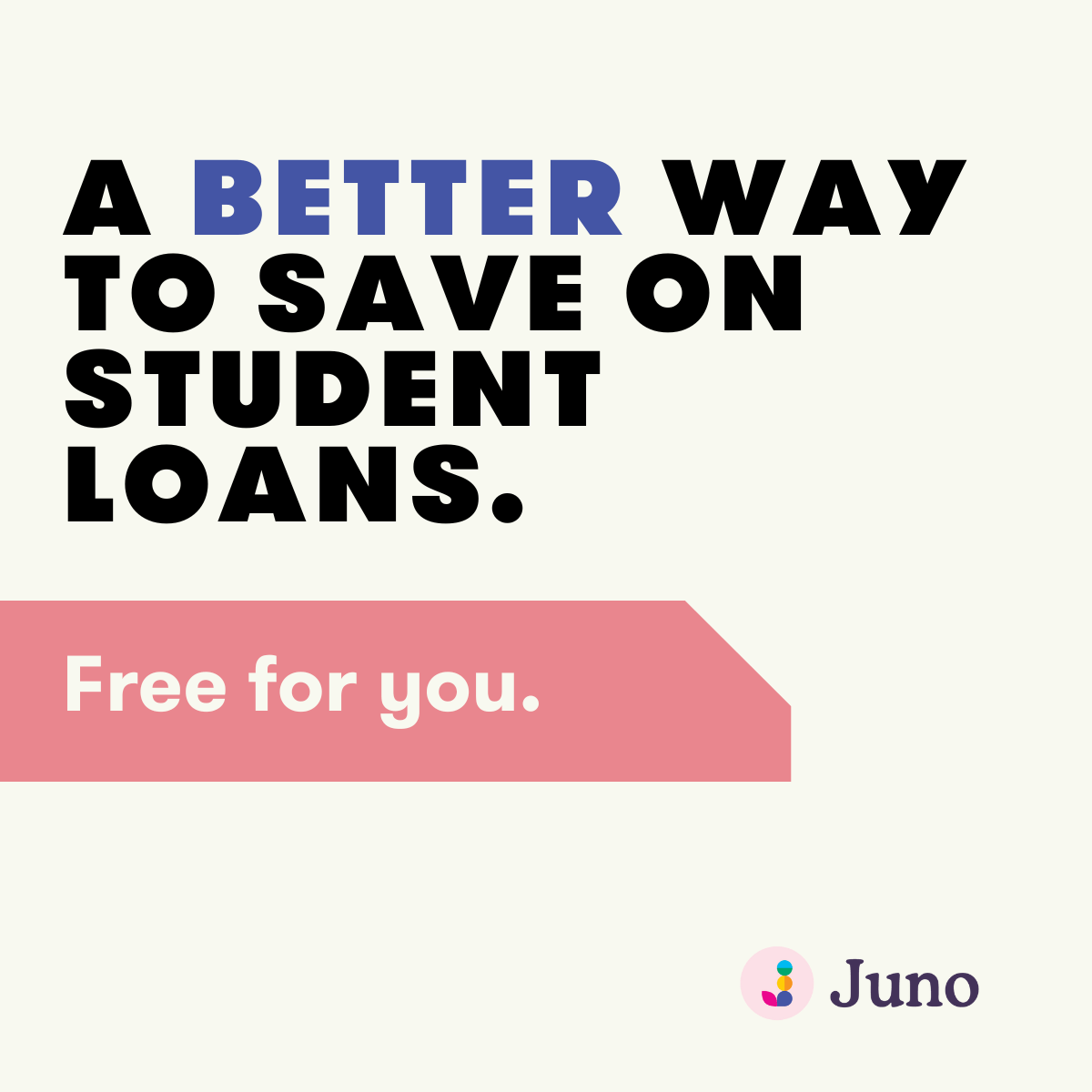 Learn more
Student Loan Calculators: