Juno How To: Understanding Student Loans and The Medical Field
Getting into the medical field isn't easy, figuring out student loans can make it even harder. This guide is here to help you understand how to deal with student loans if you're studying medicine.
Joining the medical field can be incredibly rewarding, but it can also come with a large amount of student loan debt. For many students, medical school debt is often added on top of the debt they accrued during their undergraduate studies. This can mean a higher debt burden, along with a more confusing process when it comes to getting your debt organized.
Borrowing For Medical School
In general, borrowing for Medical School is somewhat similar to other higher education tracks. On the federal loan level, medical students should be eligible to borrow
$20,500 per year in Direct Unsubsidized Loans.
After that, the rest of the COA has to be made up of a mix of Direct Plus Loans, Private Loans,
scholarships
, or savings.
Avoiding loans for either degree is pretty difficult, so choosing the right financing options is important. When it comes to borrowing money for law or medical school, historically most students have turned to federal loans to finance their education. Then, after graduating, many
medical school professionals choose to refinance
to get a lower rate or better terms (see below for a full explainer). At the same time, a large number of doctors choose to keep their federal loans because of the benefits they provide. Each option has unique pros and cons and what is best for you varies by your situation.
Although federal loans may have higher interest rates than private loans, they do have some protections like
Income-Driven Repayment Plans
and
Public Service Loan Forgiveness
. The PSLF program specifically has an income eligibility cap, meaning if you make over a certain amount, you won't be able to use the program. This usually disqualifies many medical professionals, since they enter high-salary jobs after graduation. This high income can help you pay off large debt faster. If this is the bucket you think you'll fall into, you likely won't benefit from the federal protections, you may end up overpaying for benefits that you do not get to take advantage of, as federal loans may have a higher interest rate than private ones. Private loans may make more sense for you.
If you are considering a career in public service, like being a doctor at a VA hospital, or if you know your salary will be below the PSLF program income eligibility cap, carefully consider if federal programs would influence your decision in taking out and holding on to your federal loans, instead of refinancing them for better terms after graduation. IDR plans may help offset a lower salary. The PSLF program may help you get portions of your debt canceled after graduation and entering the public workforce, alleviating your debt burden. Keep in mind that there is no guarantee that these plans will always be around, or they may change their eligibility requirements.
When it comes to private loans, the interest rate offered to each person varies. Every private lender has its own unique
underwriting
process and standards for student loan applicants; these eligibility requirements help lenders decide whether to give an applicant a loan and at what interest rate. As part of the loan application process, lenders will require a credit check to evaluate your ability to repay and how risky you are. If you have a good credit score (650+) you will likely qualify for a loan, and the higher your score is the better rate you will be offered. Adding a co-signer can also lower your rate.
Basically, to understand if federal loan protections are worth it, you need to know how much you are paying for them. Comparing federal loan options to private loan options is the best way to do that.

Refinancing Debt
Who should refinance?
Anyone with private student loan debt should definitely consider taking advantage of today's current historically low-interest rates. If you've got a combination of federal and private debt, you can opt to only refinance the private loans right now. If you've just got federal student loans, consider waiting until the end of the student loan interest holiday in September.
Since getting into the medical field means going back to school for several years for some folks, that could mean some of your undergraduate loans will go into deferment. If you took out federal loans during your undergraduate degree, those loans may qualify for a
Graduate Fellowship Deferment or In-School Deferment
upon you entering a graduate program. The federal government pauses your payments until 6 months after you graduate from your graduate program. The deferment is usually put in place automatically, but you can also request a deferment if you are enrolled in a graduate program. Keeping this in mind is important, as these loan payments will kick in addition to loan payments from your medical school loans.
However, not all medical programs will qualify for deferment. Some more specialized programs and certification tracks may not fall under the
Graduate Fellowship Deferment or In-School Deferment
. In that case, refinancing your undergraduate loans may be a good first step in alleviating some debt burden before taking on more loans.
What happens when you refinance?
Usually, after people refinance a loan, we hear "why was that so easy?" The truth is that the process is fairly straightforward. On a basic level, you're taking out a new loan to pay off your old loan. Since you have an employment history, you're perceived as 'less risky', your new loan ideally has a lower interest rate, saving you money in the long run.
Details on Juno's Deal
Rates start at 3.34% fixed including autopay (terms and conditions apply)
Juno's medical refinance partner will offer you a rate reduction of 0.25%. (ex. 4% APR becomes 3.75%)
In addition, you may be able to pay back your medical school loans at only $100 per month while in residency or fellowship.
No fees.
Can residents refinance?
Yes, Juno's partner refinances student debt for doctors (MD or DO) and dentists (DDS or DMD) while they are in residency and before they begin practicing as attending physicians. Residents can defer making full payments on their loan up to 6 months after their residency and fellowships.
What is the earliest point at which I can refinance my loan?
Juno's partner can refinance your student loans as early as your final semester of school, so long as you have a job offer and plan to begin working directly after graduation. You do not need to wait until the end of your grace or in-school deferment period, as they will honor any existing grace or in-school deferment periods.
Who can refinance?
U.S. citizens or permanent residents with a valid I-551 form ("permanent green card") are eligible to refinance student debts.
Juno's partner refinances student loans for working professionals with four-year undergraduate and/or graduate degrees from Title IV accredited institutions, as well as for professionals who have an associate degree* in designated professions. They also refinance student loans for parents who took out debt to finance their child's education. To be eligible for the Parent-Student Loan Refinancing Program, the child must have attended a Title IV School but does not need to have graduated. Loan eligibility depends on lending criteria, such as your credit profile, monthly income, and monthly debt payments.
* Additional eligibility requirements for Associate degree applicants:
The applicant must either be currently enrolled and in the final term of the associate degree program at a Title IV eligible school with an offer of employment in the same field in which they will receive the associate degree OR have graduated from a school that is Title IV eligible with an associate degree in the following eligible programs. The graduate must be employed, for a minimum of 12 months, in the same field of study of the associate degree earned:
Cardiovascular Technologist (CVT)
Dental Hygiene
Diagnostic Medical Sonography
EMT/Paramedics
Nuclear Technician
Nursing
Occupational Therapy Assistant
Pharmacy Technician
Physical Therapy Assistant
Radiation Therapy
Radiologic/MRI Technologist
Respiratory Therapy
Surgical Technologist
Hear from a member!
"I was with Sallie Mae and my interest rate was 10.75%, but I refinanced with Earnest through [Juno] and not only got my rate down to almost 4%, but I also got $1000 cash.
I got paid. To save money.
So make sure as soon as you graduate and get your first pay stub to refi. It's super easy and literally takes under 10 minutes, the hardest part is typing in how much you have saved in all our accounts to prove assets as well as entering your social.
Their system literally automates all the hard parts out of it. Not everyone will save as much as me because I'm kind of an extreme case.
I refinanced 170k at 10.75%V to 4.04%F, cutting my monthly payment from $2800 to $1250. This is totally free and you can still write off payments on your taxes. Hope this helps someone...
Of course, make sure you do plenty of research and ask tons of questions to the lender before you refinance any debt.
I applied for refi literally everywhere and this was the best deal by like 1.2% and was much easier to fill out the app than at other places."
- Josh C.
---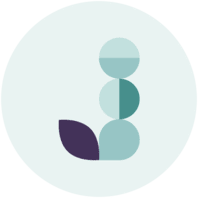 Written By
Juno Team
Juno came into existence to help students save money on student loans and other financial products through group buying power by negotiating with lenders. The Juno Team has worked with 90,000+ students and families to help them save money.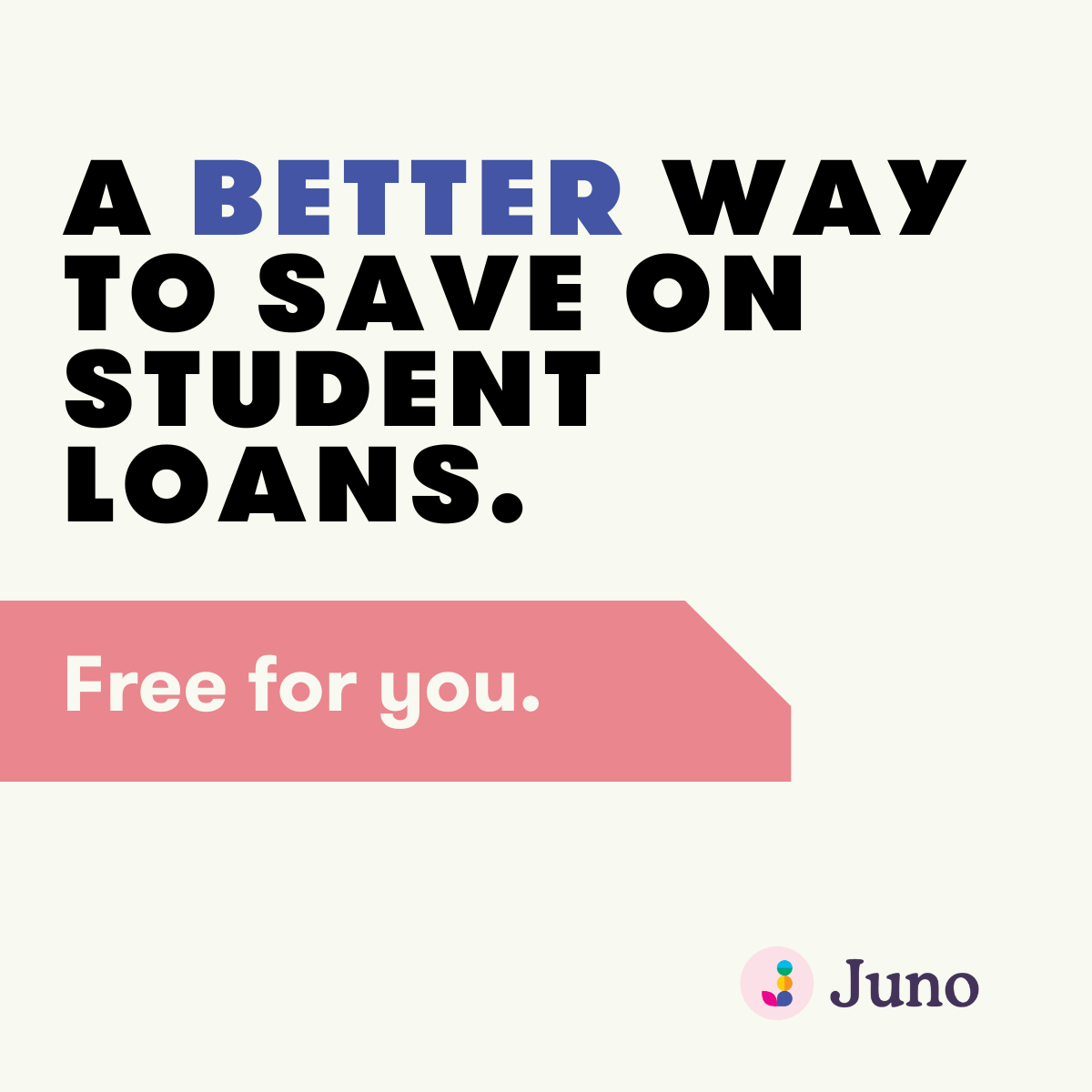 Learn more
Student Loan Calculators: