Can You Refinance Private Student Loans as Federal Loans?
Refinancing is a great opportunity to improve your finances. Learn about if you can refinance private student loans to federal student loans and vice versa.
Refinancing student loans provides an excellent opportunity to strengthen your financial situation. When you refinance to a new loan, you can lower your payments, reduce your interest rate or secure better repayment terms. However, what happens if you have private student loans? Is refinancing private student loans to federal student loans an option, or are those benefits lost forever?
Federal student loan benefits
Borrowers with federal student loans receive certain benefits that most private student loan lenders do not offer. Unfortunately, you give up these valuable benefits with student loan refinancing through a private lender.
Loan forgiveness
In certain situations, student loan borrowers may be eligible to have some or all of their federal student loans forgiven, discharged or canceled. In August 2022, the U.S. Department of Education announced it would cancel up to $20,000 in federal student loans for borrowers who meet income eligibility requirements. Additionally, billions more have been canceled for students who attended for-profit universities, including the now-defunct ITT Technical Institute. In total, President Biden has forgiven $32 billion of student loans since he took office.
Income-driven repayment
Student loan payments can be a major drag on your budget. If you're having difficulty making your payments, an income-based repayment plan sets your monthly payment as a percentage of your income. After you make the required payments for 20 to 25 years, the remaining balance is forgiven. However, you may owe taxes on the forgiven amount.
Deferment of payments
While many private lenders may offer postponement of your payments for certain situations, they are not required to. With federal student loans, if you're unemployed or dealing with a financial hardship, you can pause repayment through a student loan deferment. If you meet the requirements, this deferment can last up to three years. Depending on your loan type, interest may continue to accrue and you may be responsible for paying the interest during your deferment.
Benefits of private student loans
Federal student loans are not the only loans that offer benefits to borrowers. If you have private student loans, you may be eligible to use the following benefits or alternative payment options as needed. Benefits, programs and eligibility vary by lender, so contact your loan servicer to explore what options are available. The best student loans offer the following benefits.
Grace periods
Private student loan lenders may offer grace periods of up to six months when you graduate. These grace periods are similar to those offered by federal student loan servicers. Your interest may continue to accrue, but this grace period gives you extra time to find a job and transition out of college before payments are due.
Repayment options
Your lender may offer different repayment options that are a better fit for your budget. In some cases, lenders offer interest-only repayment plans. These payments are much lower than they would be on an immediate repayment plan. Keep in mind, though, that these interest payments do not reduce your loan balance, so future payments may be larger to ensure you pay off your loan in time.
Forbearance
Lenders may offer forbearance to student loan borrowers who are facing financial hardship or have a medical emergency. With a forbearance, you do not have to make payments for a set period.
Why should you refinance your student loans?
Refinancing student loans is an important decision for student loan borrowers. By refinancing your loans, you'll potentially unlock savings, benefits and greater financial flexibility.
Lower interest rate

. You may be able to secure a lower interest rate on your loans with a refinance. A lower rate through a rate reduction could save you money over the repayment term of your loan.

Change the term of the loan

. When you refinance your student loans, you may be able to change the repayment term of the loan by extending the repayment period or shortening it.

Lower monthly payments

. A refinance can lower monthly payments to provide additional flexibility with your budget. Some borrowers use the savings to accelerate the pay down of higher-interest debt.

Lock in a fixed interest rate

. Loans with variable interest rates can spell trouble in a rising rate environment. Borrowers can refinance their student loans from a variable rate to a fixed rate to lock in their new interest rate.

Student loan consolidation

. Student loan borrowers who have multiple loans can perform a consolidation of their loans into a loan with one monthly payment. Student loan consolidation makes it easier to keep your repayment on track and minimizes the chances of missing a payment.

Co-signer release

. Some borrowers have parents or others who co-signed their loans. If you qualify on your own, you can refinance your student loans and release your co-signer from financial responsibility. That eliminates the effect of the loan on their credit history.



Can you refinance private student loans to federal?
While you can refinance federal loans with a private student loan lender, you cannot do the reverse. Private student loans are not eligible for refinancing to a federal student loan.
You can combine federal and private student loans into a new private student loan. However, they cannot be combined into a new federal student loan.
Other options for private student loans
While you cannot refinance your private student loans into a federal student loan, there are other options available to improve your finances and get a better loan.
Talk to your lender about your options
Many private student loan lenders are willing to refinance their own loans or change the terms of existing loans. You may be able to switch your repayment schedule if you want to lower your monthly payment. If your credit score has improved, you may qualify for better loan terms.
Pursue career-based loan forgiveness
Certain careers are eligible for loan forgiveness, even if you have private student loans instead of Federal student loans. The details vary per program, but eligible jobs include nurses, attorneys, doctors, automotive professionals and volunteers.
Have your employer pay off your student loans
Some employers help pay off employees' student loans to attract new workers and as a retention tool. Through the CARES Act, employers can offer up to $5,250 in student loan repayment benefits tax-free through 2025.
Refinance with another private student loan lender
If you aren't getting better options through your existing lender, it may make sense to refinance your student loans with another private lender. That will allow you to be in control of the terms, interest rate and monthly payment by comparing your options from several lenders.
The bottom line
Student loan borrowers cannot refinance their private student loans into a student loan from the federal government. Student loan refinancing or consolidation into a new loan can be done with another private lender if you want to get a lower interest rate, remove a co-signer or receive better loan terms. Additionally, don't forget about student loan repayment or forgiveness programs through your employer or industry organizations.
If you're interested in refinancing, Juno can help. We get groups of buyers together and negotiate on their behalf with lenders to save them money on private student loan refinancing. Join Juno today to find out more about your options.
---
Written By
Lee Huffman
Lee is a travel writer and podcast host based in Nashville, Tennessee. Lee spent 18 years in banking and investments and now uses that insider knowledge to write about credit cards, travel, and other personal finance topics.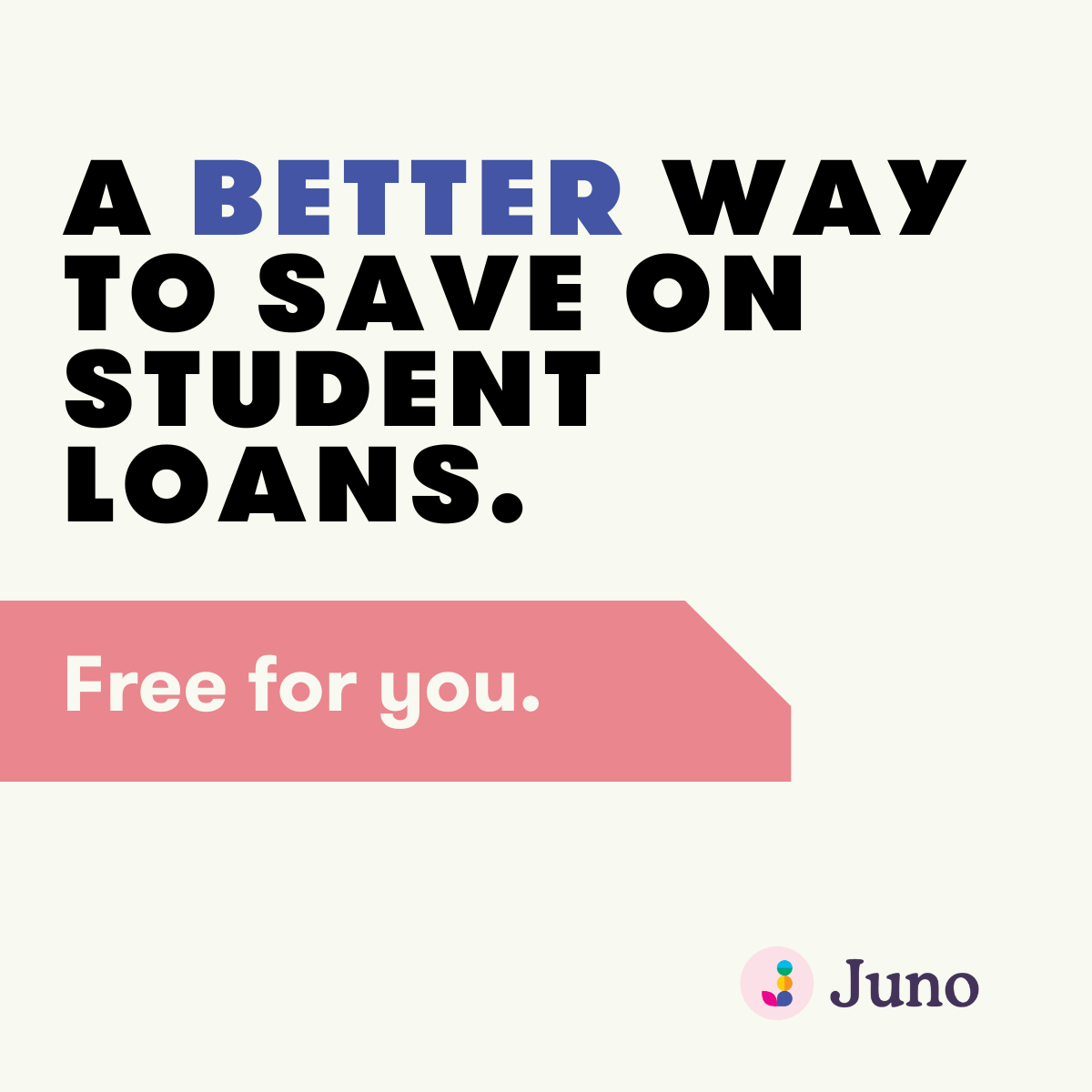 Learn more
Student Loan Calculators: