How Student Loan Fees Work and What They Cost
Fees can often widely vary among different student loan lenders. Read to find out what these fees are and how they may effect you.
When it comes to student loans, many borrowers don't realize that origination fees vary widely. For example, all federal student loan programs for undergraduate students, graduate students and parents come with loan origination fees that are a percentage of the total amount borrowed. On the other hand, some private student loan lenders, including Juno's partner lenders, don't charge any loan fees. So, before you take out your first or next student loan, learn how student loan fees work, what they cost and what your options are for avoiding student loan origination fees. Then, you can weigh the pros and cons of private versus federal student loans to make the best choice for you.



What are student loan origination fees?
Origination fees are charged to the borrower for the cost of issuing a loan. They are calculated as a percentage of the total amount borrowed and can be added to any type of loan, including student loans.
When it comes to federal student loans, all Direct Subsidized Loan and Direct Unsubsidized Loan programs charge a loan origination fee of 1.057%. This charge is deducted proportionately every time you receive a loan disbursement. So, the amount you receive (the disbursement) will be a little less than what you borrowed, and the fee becomes part of your balance, subject to interest.
Direct PLUS Loans for grad students and parents of undergraduate students have a loan origination fee of 4.228%, also proportionately deducted from each disbursement you receive. Only the Direct Consolidation Loan program has no application or loan fee.
Origination fees on federal student loans were intended for the Federal Family Education Loan (FFEL) program to offset the cost of using private lenders to issue federal student loans. Unfortunately, FFEL ended in 2010, but origination fees on federal student loans have stuck around. Bipartisan legislation was recently introduced in Congress to end origination fees on federal student loans, but so far no action has been taken.
How much do student loan fees cost?
Because student loan origination fees are subtracted from your disbursement and counted as part of your balance, you will have to repay the fee either right away or later, with interest. If you don't have a subsidized federal student loan, the interest charges on your origination fee alone could add up to several thousand dollars by the time you graduate. That will depend on the amount you borrow, the original fee amount and the interest rate on your loan.
When choosing which type of student loan to apply for, run the math on fees before making a decision. Federal student loans offer some benefits that private loans don't, but you may want to use private student loans for some or all of your education costs to avoid origination fees. At Juno, our partner lenders offer private student loan deals without any fees.



Private vs. federal student loan fees
As mentioned, all federal student loan programs for undergraduates, grad students and parents come with origination fees. Individual colleges and universities are unable to waive these fees for students. If you're looking for an alternative to federal student loans with origination fees, consider fee-free private loans. At Juno, we make lenders compete to offer you the lowest possible rate for your credit profile. Check out our current deals:
Remember that it's not all or nothing. For example, federal Stafford loans are usually the best option for undergraduate students, but the limit for your first year is only $5,500. So, if you need to borrow more than that, consider a private student loan for the rest to avoid origination fees.
The same goes for graduate students. You can mix and match federal and private student loans to save on student loan fees while retaining the benefits that come with federal loans for some of your total student loan balance. And after you graduate, you can consider whether refinancing your student loan debt is right for you.
The best alternatives to federal loans with origination fees
Eligibility for federal student aid is based on factors such as financial need, citizenship and enrollment status. Unless you are in default on another federal student loan or you are a parent borrower, your credit history isn't a factor in getting approved. That's also why federal student loans have the same terms and interest rates for every borrower.
On the other hand, approval for private student loans is based on your credit history or your co-signer's credit history. Therefore, the higher your credit score is, the better terms and lower rates you can qualify for. Borrowers with excellent credit should consider private lenders in order to avoid student loan origination fees. If you're looking to finance all your education costs with private loans or to supplement the federal loan limit, Juno negotiates more affordable student loans on behalf of borrowers you like. Check out our undergrad loan rates and grad loan rates.
If you've finished your degree and are locked into loan rates or terms you're unhappy with, consider a student loan refinance to lower your interest rate and monthly payment amount.
Avoid student loan fees with a private loan
Now that you understand how student loan fees work and what they cost, you can decide whether to use federal loans, private loans or a combination of each to finance your undergraduate or graduate education. And if you're looking to avoid student loan fees with a private loan, join Juno today to find the best private student loan options. It's free, takes less than one minute and doesn't require a credit check to view our negotiated deals. We use group buying power to get you the best student loan interest rates, and our partner lenders offer student loans without any fees. If by some miracle you find a better deal, we'll beat it!
---
Written By
Elizabeth Spencer
Elizabeth Helen Spencer is a personal finance and travel writer based in the Philadelphia area. She holds an MFA in Creative Writing and has been featured in Money Under 30 and HuffPost.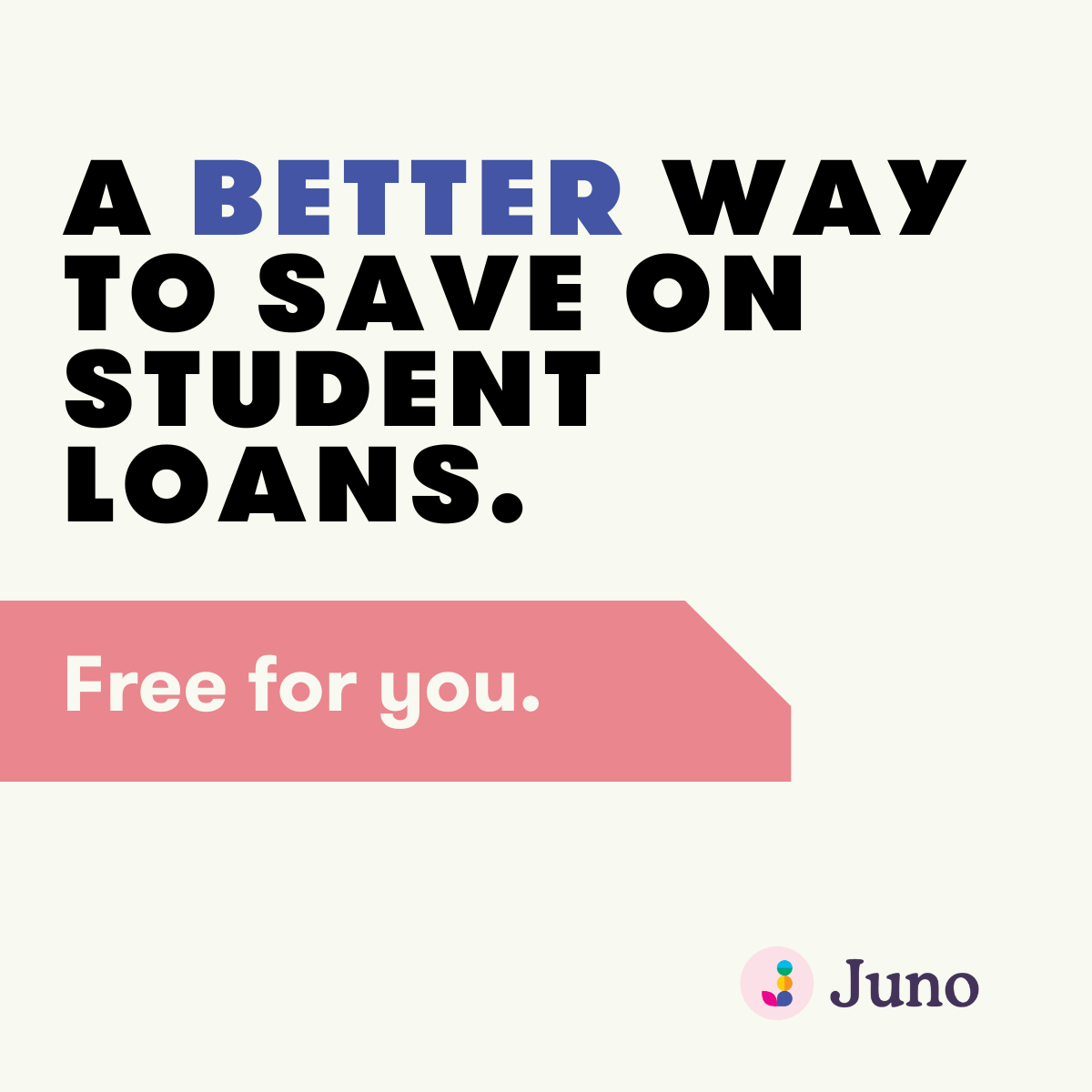 Learn more
Student Loan Calculators: