What Determines Student Loan Interest Rates?
Understanding interest rates can help when you apply for loans and make payments. Learn how federal and private student loan interest rates are determined and find the best offers.
When it comes to paying for college, plenty of students will end up borrowing money — and the interest that goes along with it. If you are entering the job market as a recent graduate, those interest rates can have a huge effect on your budget. Sure, you know you'll have to pay interest, but you may not be aware of exactly how interest rates are determined.
In a nutshell, federal student loan interest rates are set by the government, whereas interest rates for private student loans are based on factors such as your financial situation. Let's take a look at how lenders determine rates and how they can affect what you may pay.



Who Sets Student Loan Interest Rates
For federal student loans, interest rates are set each school year by federal law and apply to all applicants regardless of their credit history.
In contrast, private student loan lenders set interest rates based on the creditworthiness of applicants and co-signers, if applicable, meaning private lenders consider factors such as income, credit score and job history.
Formulas for Federal Student Loan Rates
According to the Federal Student Aid Office, the Department of Education sets federal student loan rates, and Congress passes them into law.
These rates are set each school year in the spring and are based on 10-year Treasury notes plus a fixed increase. Each federal student loan type also has a rate cap, ensuring interest rates don't rise too high.
According to the Congressional Budget Office (CBO), here are the formulas to determine interest rates for federal loans:
| | |
| --- | --- |
| Loan Type | Formula |
| Undergraduate Direct Subsidized and Unsubsidized Loans | 10-year Treasury plus 2.05% (capped at 8.25%) |
| Graduate Direct Unsubsidized Loans | 10-year Treasury plus 3.60% (capped at 9.50%) |
| Graduate and Parent Direct PLUS Loans | 10-year Treasury plus 4.60% (capped at 10.50%) |
The formulas are effective for newly issued loans from July 1 through the following June 30.
Looking at the formulas above, those who pay the least in interest are undergraduate students, whereas graduate students and parents end up paying more to borrow federal student loans.
As for the specific dollar amount you'll pay in interest, that depends on how much you borrow (interest rates remain the same). Borrowers are approved by the Department of Education based on need. To determine how much you may be able to borrow, you'll need to fill out the Free Application for Federal Student Aid.


How Do Lenders Set Private Student Loan Rates?
Each private student loan lender will set its own rates, so you'll need to reach out to multiple companies to determine the rates you may qualify for. That's because each lender uses its own criteria and underwriting process to determine your eligibility for a loan. It's these requirements that determine the interest rate the lender will charge you, assuming you're approved.
Here are some common factors private lenders consider:
Credit score

Credit history

Income

Field of study
A student who can't meet a lender's underwriting requirements may need to apply with a co-signer.
Let's take a closer look at the factors that could affect the interest rates private lenders offer.
Creditworthiness
Your creditworthiness likely is the main factor lenders use to determine your interest rates. Generally, the higher your score and more positive your credit history, the better your chances of being approved for a low interest rate.
Having a high credit score shows lenders that you're creditworthy, meaning you're more likely to pay back the lender on time and therefore lending to you is less of a risk. Many private student loan lenders have credit score requirements — usually 670 or higher.
If you don't have a good credit score or have a limited credit history, you can apply with a creditworthy co-signer. Whoever you choose, make sure to speak to them about their responsibilities and assure them you'll make your payments on time.
Student Loan Terms
The type of interest rate and repayment term you choose could affect the interest rate the lender offers you.
In many cases, the shorter the repayment term, the lower the student loan interest rate — though it differs by lender. If you choose a variable interest rate, you could get a lower rate during the introductory period, but it could increase to a rate that's higher than a fixed rate.
Economic Factors
Although interest rates for private student loans don't have a set formula, they are influenced by a benchmark rate. It's not the 10-year Treasury bond rate that's used for federal student loans but rather the prime rate or the London Interbank Offered Rate.
Both rates are typically set by market prices and other macroeconomic forces.



What About Student Loan Interest Rates in the Future?
According to the CBO's baseline projections, federal student loan rates could be as high as 5.51% for Direct Subsidized and Unsubsidized Loans to undergraduate students, 7.06% for Direct Unsubsidized Loans to graduate students, and 8.06% for Direct PLUS Loans to graduate students and parent by 2031-32.
No matter what the specific increases are, it's likely interest rates will steadily increase for both federal and private student loans.
You don't have a choice when it comes to borrowing federal student loans, but for private student loans, you can choose which lender to go with. That's why it's a smart idea to shop around to determine the best rates and terms based on your financial profile.
If you already have student loan debt, look into student loan refinancing to see whether you qualify for a lower interest rate. Refinancing can save you thousands of dollars in interest over the lifetime of your loan.
Whether you're taking out a loan or looking to refinance, Juno's here to help. Our mission is to negotiate the most competitive rates for private undergraduate and graduate student loans as well as refinance loans. It's free to sign up.
---
Written By
Sarah Li Cain
Sarah Li Cain is a finance writer and a candidate for the Accredited Financial Counselor designation whose work has appeared in places like Bankrate, Business Insider, Financial Planning Association, Investopedia, Kiplinger, and Redbook. She's the host of Beyond The Dollar, where she and her guests have deep and honest conversations about money affects their well-being.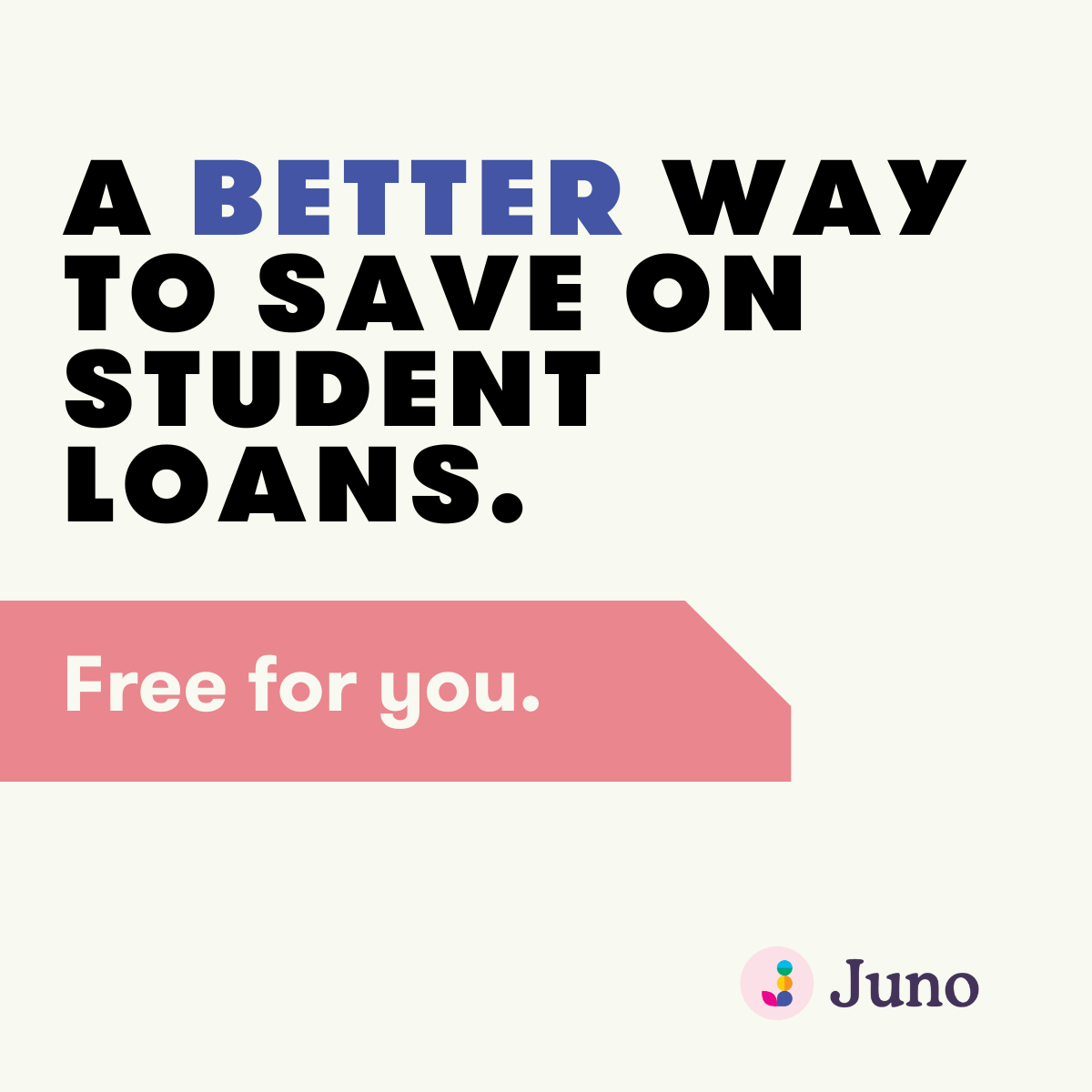 Learn more
Student Loan Calculators: